In Brief:
Dry and warm weather returns.
Friday Update:
DIA officially recorded 0.3 inch of snow this morning ending the snow-less streak shy of a new record. Longmont and areas north and east stayed dry.
End Friday update.
Thursday Update:
A strong winter storm is still entering the state today and tonight, but it will spend most of its energy and dump most of its precipitation in the mountains and western slopes. Snow (and rain) east of the the eastern foothills will be very light. The GFS (Figure 3 update) shows a trace to 1 inch along I-25 (and 1-3 inches in Estes Park/Nederland. The NAM (Figure 4 update) shows even less precipitation east of the Rockies with most places seeing no snow. There IS a risk that the airport might not receive measurable snow and the streak of snowless days will continue and we will break the record.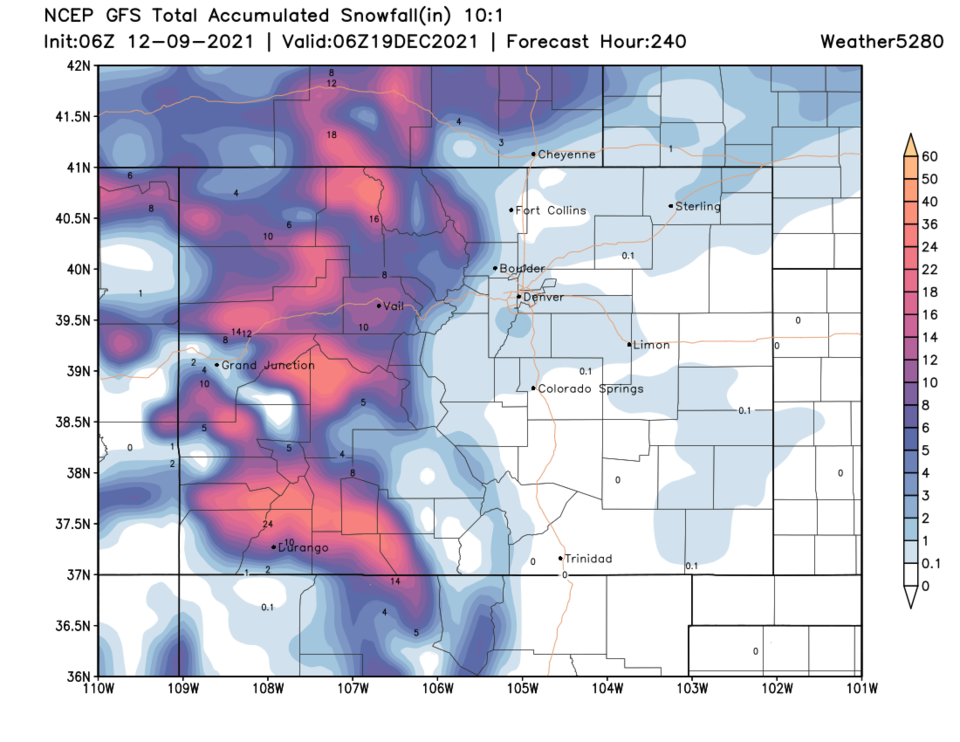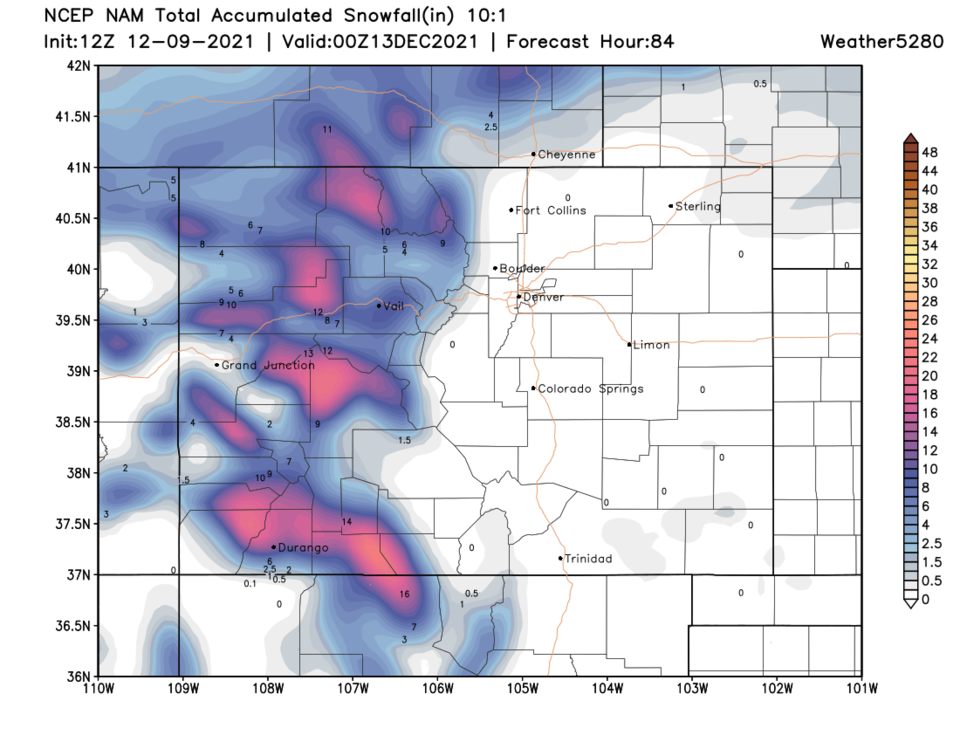 End Thursday update.
Tuesday Update:
Amazingly, our Thursday/Friday storm is still slated to arrive. The front arrives around 3pm (though they often come in a few hours earlier than the models predict- Figure 1 update). Temperatures will drop sharply Thursday night and remain low for a couple of days. The weatherunderground model gives us 1-2 inches (but it will be our first measurable snow!). A different model (the GFS - Figure 2 update) agrees giving Longmont about 1-2 inches with a foot to a foot and a half of snow on the higher elevations.
Channel 7 Denver gives Denver 1-4 inches.
The National Weather Service give us 0.5 to 1.5 inches.
More later!!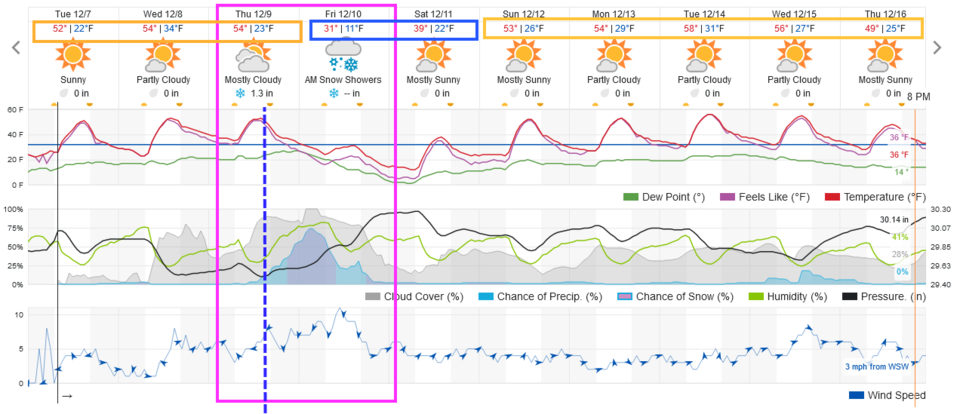 End Tuesday Update.
Forecast Discussion:
Finally, a change is coming to our weather. A strong cold front will blast down the Front Range Sunday evening (Figure 1). We will get a taste of below normal temperatures for once. You can see the progress of the front by midnight in Figure 2.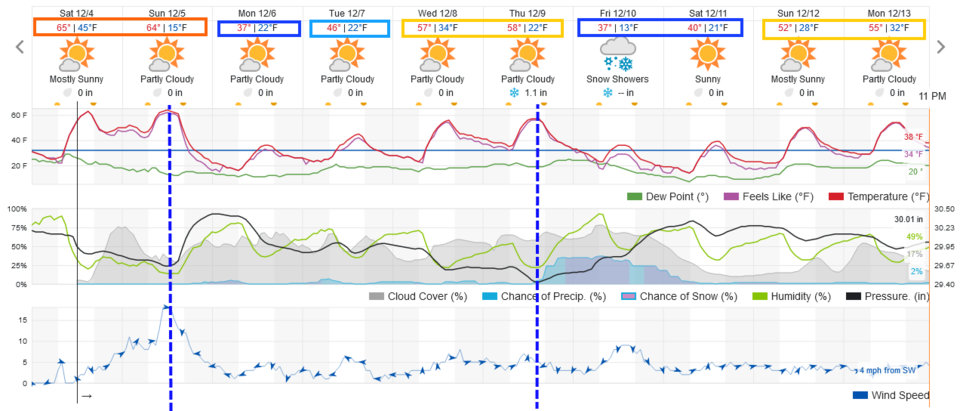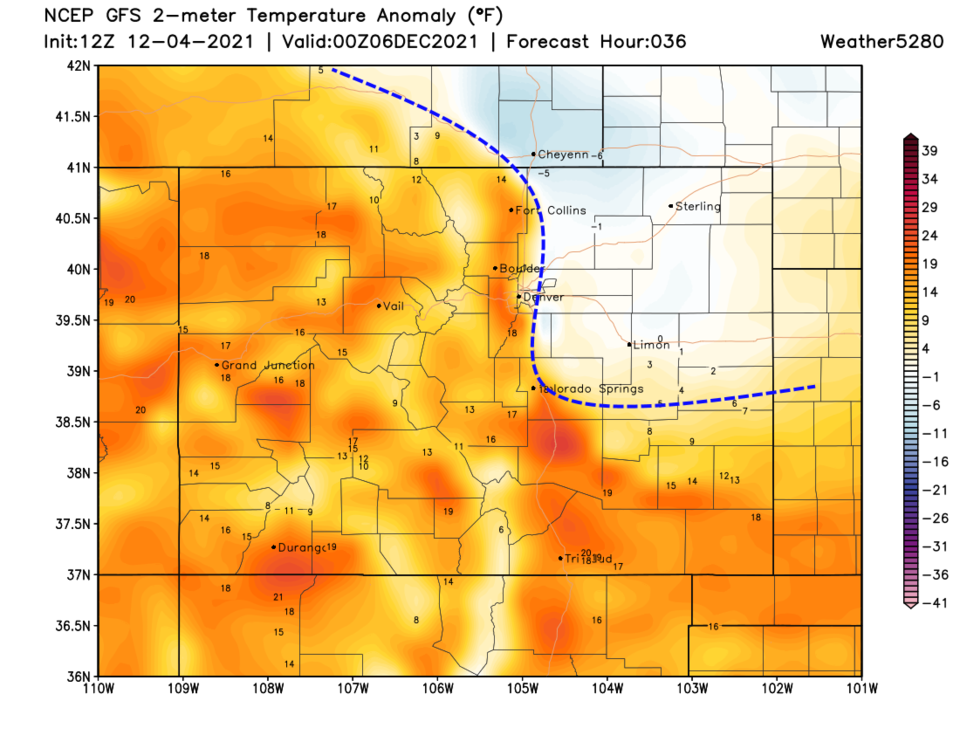 The Longer Range Forecast:
There will be a bit of snow nearby and in the mountains by Tuesday with this front (Figure 3). Not much precipitation is expected (this DID look like a significant storm a week ago (Figure 4). Our next storm (IF it materializes) hits Thursday PM and Friday (Figure 5). The snowfall total from the GFS is very significant (Figure 6) with Longmont getting 5-7 inches of snow. This will finally end out snowless streak (I hope!).