This content was originally published by the Longmont Observer and is licensed under a Creative Commons license.
In Brief:
After a possible round of strong later night storms Tuesday PM, we'll have warm to hot weather and afternoon storms most days this week. Severe weather chances are just to our east and may get bumped any day back to include I-25 folks. Keep aware!
3pm Update:
The NWS and high resolution models were correct and the outflow from the storms, that formed to the distant east earlier in the day Tuesday, hit the Front Range late in the evening and triggered hail producing storms. My rain gauge picked up under 1/10th of an inch of rain.
There were hail, tornado, and high wind reports in Colorado and just over the line into Kansas yesterday. Longmont is the big pink dot (Figure 1 update).
A similar situation is occurring again today (Wednesday) but the outflow boundary headed for us this evening is not expected to be able to trigger activity this time (due to moisture levels and the vertical temperature structure of the atmosphere).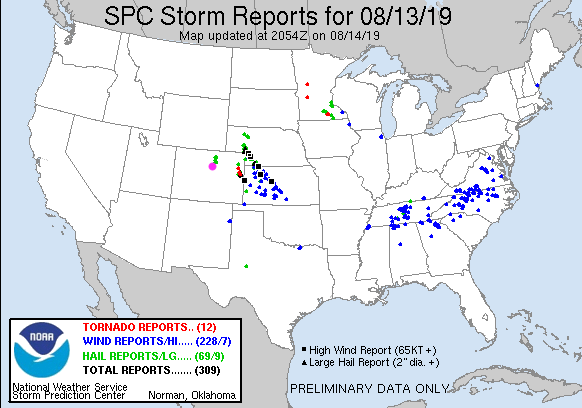 End 3pm Update.
Forecast Discussion:
There was some rich, shallow, moisture east of a dryline that formed east of Longmont Tuesday. This situation will keep repeating each day for the next few days (Figure 1). The High Resolution Rapid Refresh model (HRRR) and others are predicting some strong storms to form - yet - Tuesday night. The HRRR (Figure 2) has 2/3rds of an inch hit the town tonight and the weatherunderground model is very similar (green arrow in Figure 3). We'll see, but the NWS is expecting it too.
For Wednesday, we have a repeat that may be not as severe for the state (there was record breaking hail and a number of tornadoes out on the eastern Plains Tuesday). The severe chances are close - a Marginal Risk is maybe 50 miles to the east (Figure 4).
The Longer Range Forecast:
We see 90'sF continue, severe storms nearby (Thursday's Marginal Risk to our east is seen in Figure 5). The fine details will be better seen a day or two out as the week goes on.