This content was originally published by the Longmont Observer and is licensed under a Creative Commons license.
In Brief:
We are in the middle of our four day heavy snow event (now and then) up in the mountains. Some spots will see 1 to 3 feet up there. We'll see a chance of showers (snow at night and probably rain midday Saturday) then snow showers getting heaver Sunday afternoon and night. Still only 1-3 inches are likely in Longmont (with only a dusting still a possibility). We start next week cold and dry and slowly warm up with no next-storm in sight.
Update 12/14 5pm:
Oh oh, down-slope flow looks like it is going to spoil our snow-fun (and the jet dynamics/storm is passing far to the south of Longmont and NE Colorado). First, the HRRR through Sunday 6am gives us a dusting to a coating of snow overnight (Figure 1 update). Both the GFS (Figure 2 update) and the NAM (not shown) don't show snow accumulation for Sunday night as previously expected. We are trending towards no snow this weekend. An inch or so of snow is still always possible if things shift a bit, but less likely now.
For fun, I'm still watching Christmas Day on the GFS, and the snow moves in late Christmas Day into the 26th IF this pans out. Don't place bets or change plans on this forecast yet - it is just for fun (it is still just too far out).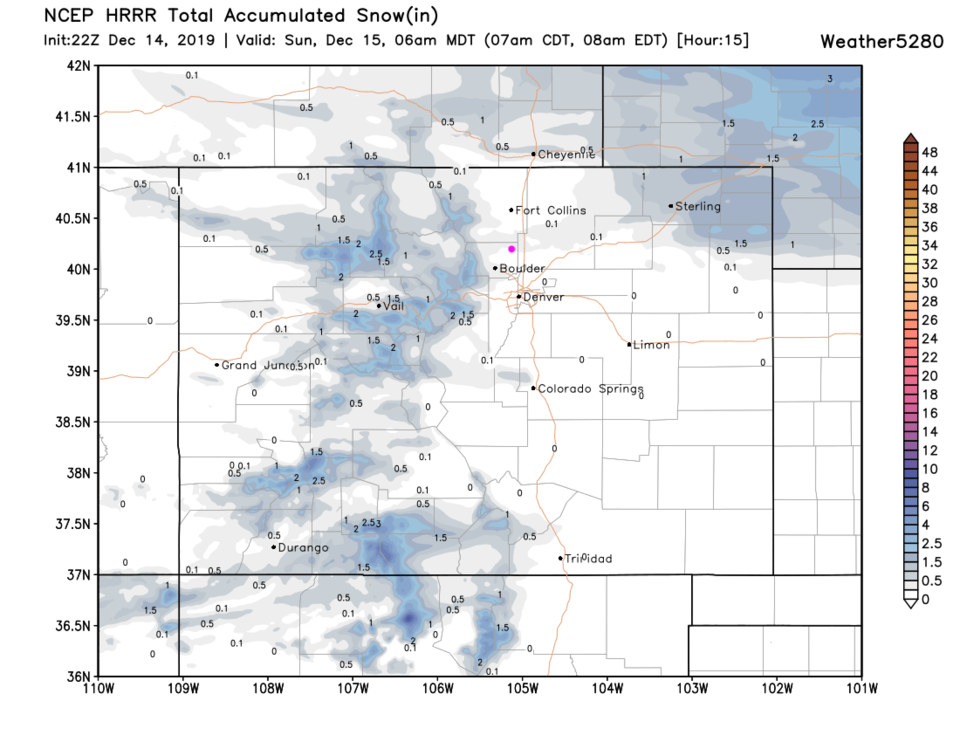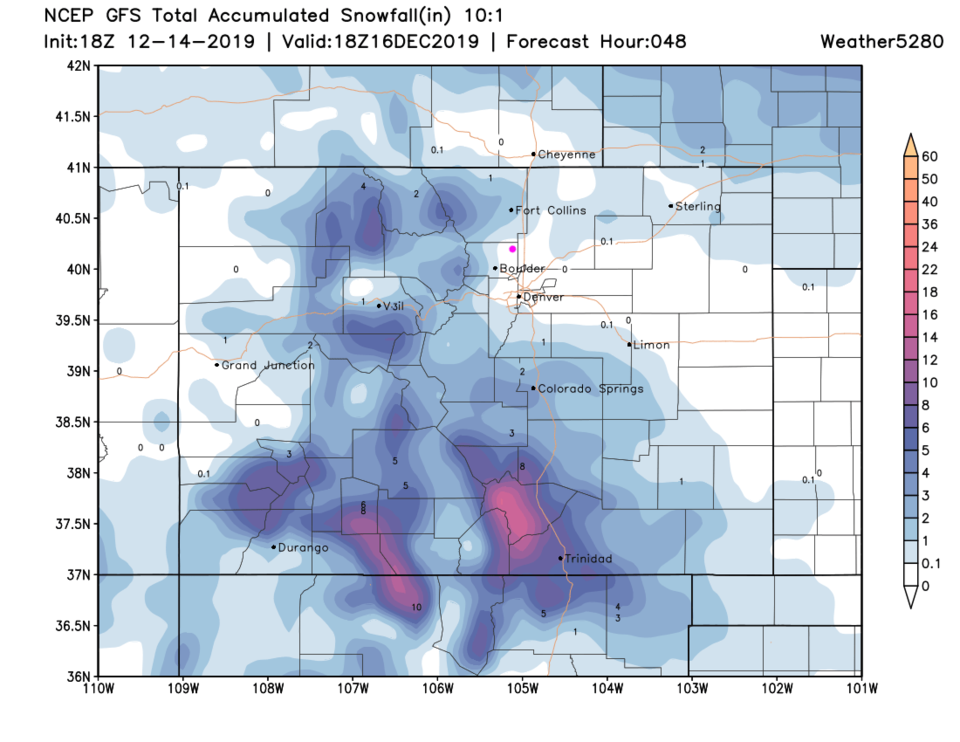 End Update 12/14 5pm.
Forecast Discussion:
Our first surge of cool air has swept over the state (cold front). There was a chilly north wind Friday night. The front will remain south of the state with short waves passing the state now and then through the weekend. The main even for the I-25 corridor will be Sunday afternoon and evening (after Figure 1) - north of Denver, it should only be a few inches. If the European model is right (not shown) Denver might get 3-6 inches of snow. More likely Denver will see 2-4 inches.
The weatherunderground model doesn't print measurable snow amounts for Longmont, but does show a chance of showers all weekend with the better chance of snow Sunday and Sunday night (Figure 2).
Snowfall Roundup:
Weatherunderground is a trace of snow to a coating (??). Figure 2.
The NAM finally brought snow to town but has us in the 0.5-1 inch belt. Figure 3.
The GFS is still more bullish with 3-4 inches. Figure 4.
The GEM has been the most excitable all along, but is at 2-3 inches. Figure 5.

The Longer Range Forecast:
The snow tapers off early Monday morning (Figure 2). There might be icy and slick spots on your Monday commute. We are barely above freezing Sunday through Tuesday then we warm to near 50F by next week.
Super far-off fantasy Christmas Forecast:
We are still too far away for models to be reliable, but the GFS has a present for the White Christmas folks tonight. Figure 6 shows (completely different than all earlier forecasts we've looked at) a big up slope snow making monster for Christmas afternoon. Again, we'll see!