This content was originally published by the Longmont Observer and is licensed under a Creative Commons license.
In Brief:
We have a cool down from a mild Saturday (that might not be as warm as expected if the high clouds stay in place and keep the cold air at the surface from mixing out) on to a chilly Monday. A storm system arrives Sunday into Monday putting fresh snow down in the mountains, but little moisture and warm temperatures (again) will keep us snow-less and possibly dry. Next week looks seasonably normal with no storms on the horizon.
12/8 8am Update:
This is just a quick check-in Sunday AM looking at the snow accumulation up to 9pm tonight according to the HRRR map (Figure 1 update) and total precipitation (rainfall too - Figure 2 update) for that same time period. Right now it doesn't look like much will fall -at all- in Longmont. There is a slightly better chance of snow showers between 5am and 11am Monday, but the GFS doesn't show anything falling in town (just up in the nearby mountains).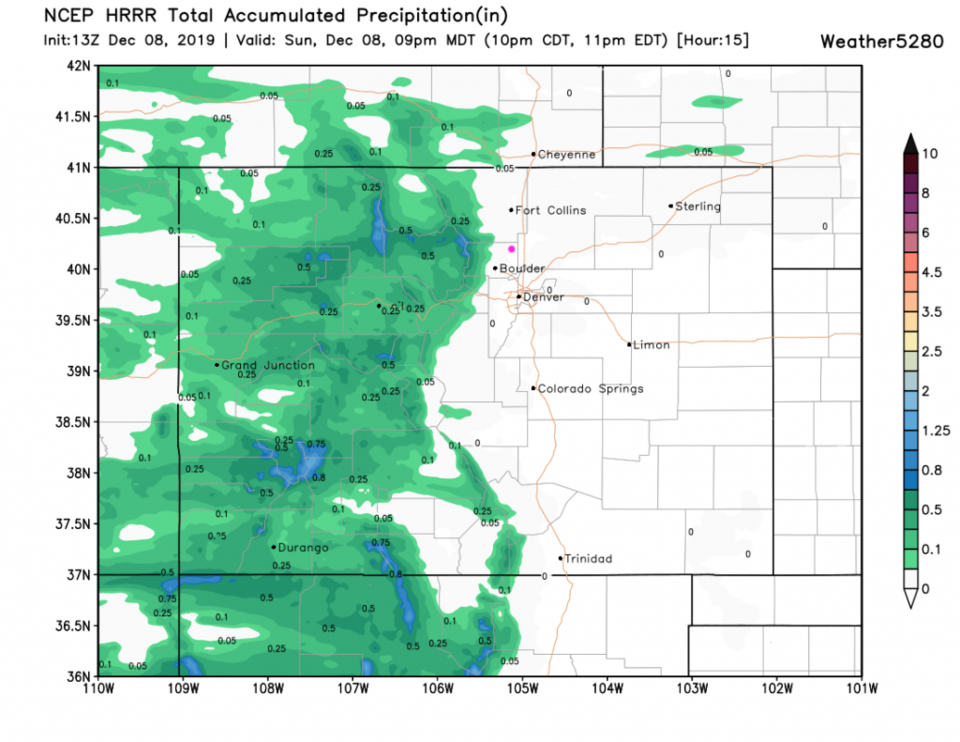 End 12/8 8am Update.
Forecast Discussion:
High pressure at the surface and aloft is sitting over Colorado today (Figure 1). The only problem keeping us from an almost hot day (65F) is the thickness of the high clouds. If they remain in place through much of the morning and afternoon, the thin layer of cold air (inversion) near the surface won't destabilize enough to mix out and let us warm up fully. It will still be nice and the slow melt will continue.
The Longer Range Forecast:
We will see a slight downhill slide in temperatures from today to Monday (Figure 3) with a small chance of precipitation Sunday PM to Monday AM. This cooling and slight shower chance will be created by a weak trough sliding by (Figure 2).
For this storm, the mountains get a foot plus in the higher elevations but Longmont sees no snow (the GFS Figure 4). Even rainfall probably won't make it to 0.05" level (Figure 5).
The NAM agrees keeping snow to the foothills to our west (Figure 6).
The GEM says the same (Figure 7).
An interesting footnote: Figure 8 shows a deep south storm moving up across New Mexico and Texas (and beyond) mid-week. If you have friends in the DFW area, they might slip and slide going to work Wednesday.