This content was originally published by the Longmont Observer and is licensed under a Creative Commons license.
In Brief:
Light snow dusted the Front Range Monday night - now we look out at three more small chances for more snow Wednesday PM, Saturday AM, and Monday/Tuesday next week. Temperatures remain below normal (except for Friday and Sunday when they are back to near normal in town). Conditions are going to go back towards "quiet weather" again.
Update 2/13 1:30pm:
A quick peek at the snowfall from the Wednesday storm. Longmont had 3-4 inches across town (a bit more than I called for by about an inch- Figure 6 udpate). Boulder saw 2-3.5 inches.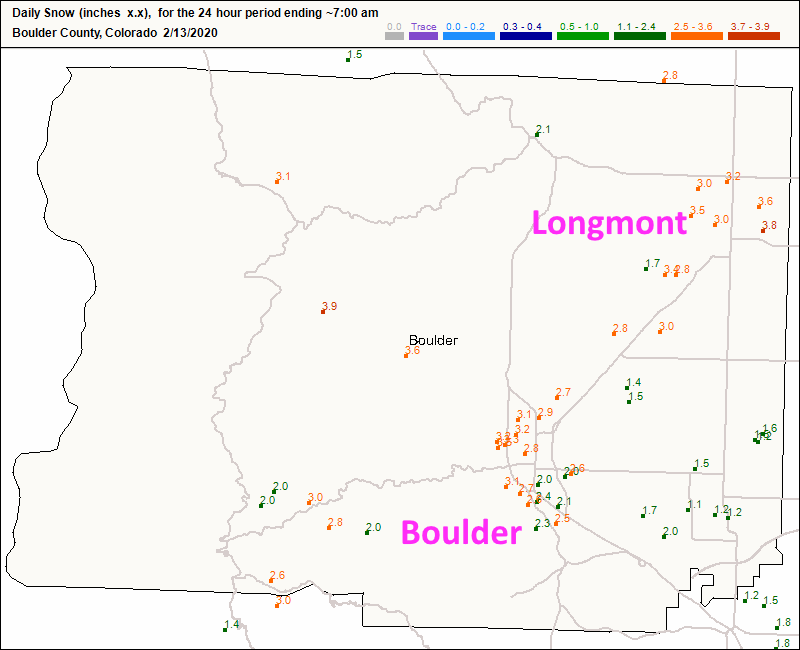 End 2/13 1:30pm update.
Update 2/12 1:30pm:
The snow should start shortly... and the NWS has now issued a winter weather advisory:
Winter Weather AdvisoryIssued: 2:26 PM Feb. 12, 2020 – National Weather Service
...WINTER WEATHER ADVISORY IN EFFECT UNTIL 11 PM MST THIS
EVENING... see Figure 5 update

* WHAT...Snow expected. Total snow accumulations of 1 to 5
inches.

* WHERE...The Northern Front Range Foothills, The Southern Front
Range Foothills, Boulder and the western suburbs of Denver,
Denver and Castle Rock.

* WHEN...Until 11 PM MST this evening.

* IMPACTS...Plan on slippery road conditions. The hazardous
conditions could impact the evening commute. Reduced visibility
is possible under the higher intensity snow showers.

PRECAUTIONARY/PREPAREDNESS ACTIONS...

Slow down and use caution while traveling.

The latest road conditions for the state you are calling from can
be obtained by calling 5 1 1.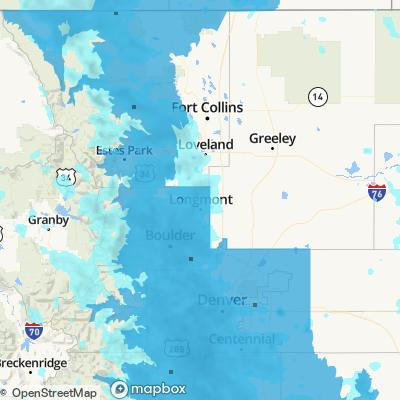 End 2/12 1:30pm update.
Update 2/12 8:30am:
A fast moving cold front with a period of high winds will blow ground snow around while light snow begins later in the morning. Snow should be falling off and on from 1pm to 8pm and snow showers may continue until after midnight. The NWS is concerned that models may be missing the strength of the system with a stronger quicker front and jet stream support for additional atmospheric lift. There could be some surprise 10 inch snow amounts in the mountains.
Snowfall roundup:
The Longmont forecast from the:
GFS (Figure 1 update): 1/2-2 inches (more to the west).
HRRR (Figure 2 update): 0.1-1 inch (more to the south).
NAM (Figure 3 update): 1.2-2.5 inches (more to the west).
The Video briefing for the end of the week can be found in Figure 4 udpate.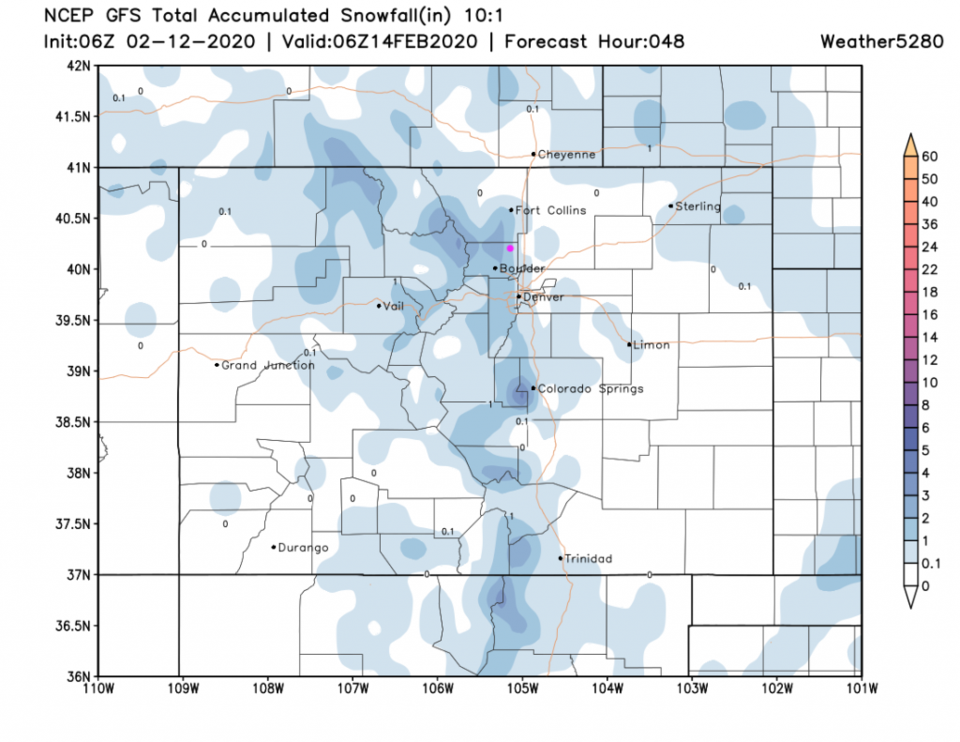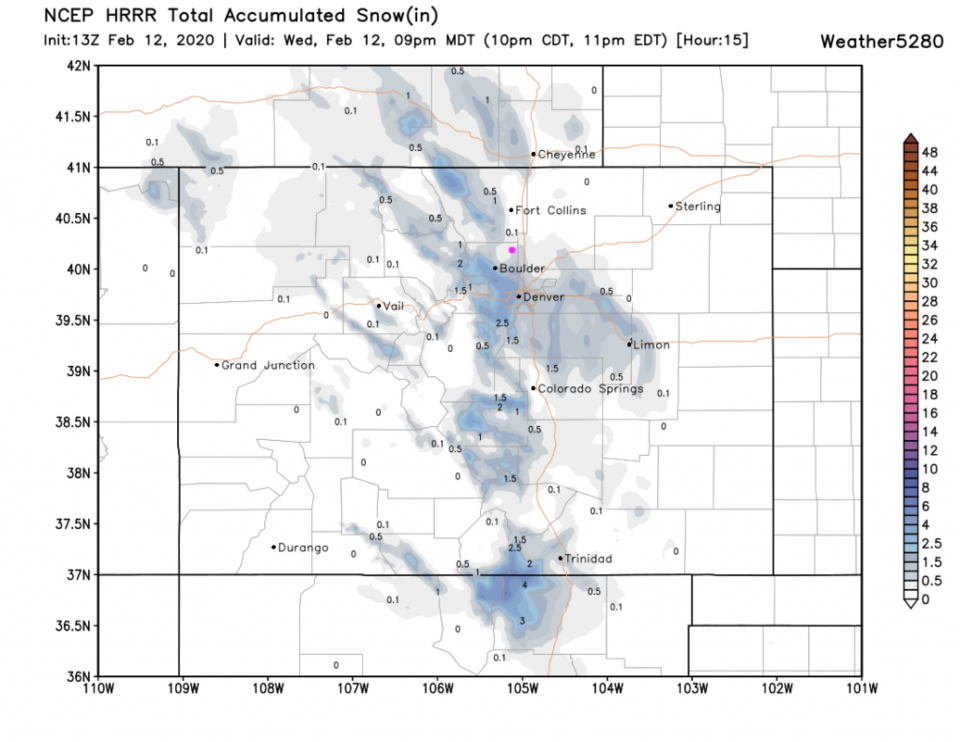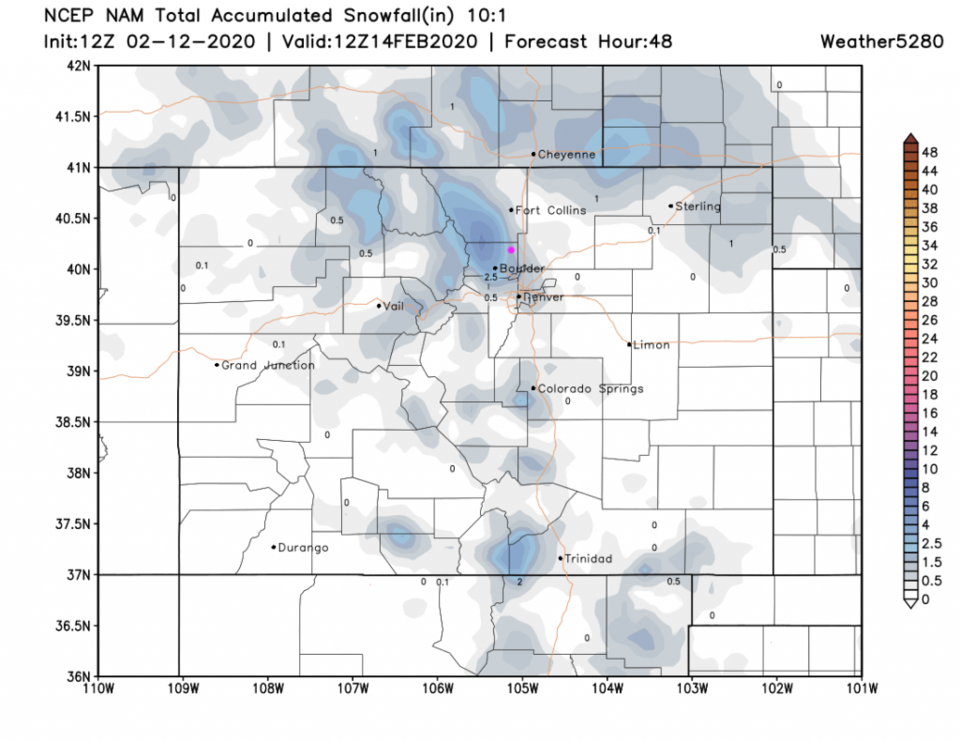 End update 2/12 8:30am.
Forecast Discussion:
We still have a big ridge off the west coast with northwest flow over the state and an approaching trough (with a cut-off low down in southern AZ - Figure 1). The water vapor satellite image shows this same pattern with some moisture flowing across AZ, NM and CO. This will move out into the southern Plains Tuesday/Wednesday (Figure 2).
By Wednesday AM, there is widespread snow/ice mix down in NM and the panhandle of TX (Figure 3). Just a tiny bit of mountain snows linger in Colorado. The snowfall for just Monday/Tuesday: the GFS gives us 1-2 inches (about 1/2 of an inch has fallen so far with decreasing snowfall on radar). This might be overdone already - Figure 5.
The Longer Range Forecast:
Temperatures remain below normal for the next 10 days except for Friday and Sunday when we get to, or climb just a bit above, normal (Figure 4). You can see the general warmth over the eastern Plains Sunday in Figure 6.
In the much longer range look - there are tiny snow chances Wednesday PM, Saturday AM, and Monday/Tuesday next week (Figure 4). The GFS over the next 10 days doesn't really give Longmont any additional measurable snow - even while the central, northern, and (especially) southern mountains get a foot or more of new snow.
Before we go today, let's see what NOAA is calling for out to the end of the month (19 days). Figure 8 has us really close to normal temperatures (but cooler than normal just up in Cheyenne and northward). Figure 9 paints us as receiving just a bit more moisture than normal for the next 19 days. Given warm ocean temperatures in the eastern Pacific right now, that looks pretty reasonable.