This content was originally published by the Longmont Observer and is licensed under a Creative Commons license.
In Brief:
A fast moving upper air trough will begin snowfall in the mountains late Sunday night and keep snow falling through much of Monday. Light rain showers and snow flurries in the air are possible down along I-25 and on the Plains. The ground is too warm and dry for snowfall accumulation. Tuesday is warm and dry before a brief, somewhat stronger, system hits Wednesday night for a chance of a coating of snow. Then we really heat up with possible 70'sF next Sunday! What kind of winter is this anyway?
Update 1/27 9am:
Clouds are here and precipitation is evaporating over our heads this Monday morning (virga). Channel 4 (using the NAM) shows the I-25 down slope snow-free hole in clear relief - Figure 1 update. The HRRR (high resolution rapid refresh model) has nothing accumulating close to Longmont (Figure 2 update). The GFS brings snow in a bit closer to town to the south, east and west, but minimal snow is expected to hit (Figure 3 udpate).
The Wednesday storm looks like it will dig too far south to give us much more than a chance of a sprinkle like this storm (it will pass Colorado down in New Mexico). Still, this stretch of dry weather is not even in the top 20 snow/rain free periods in the winter for the Denver region. It is dry but not record dry.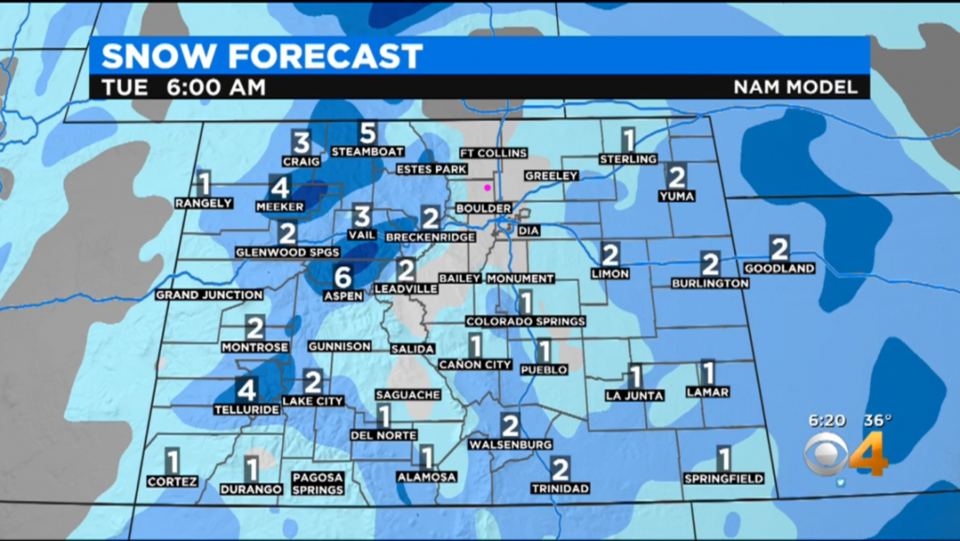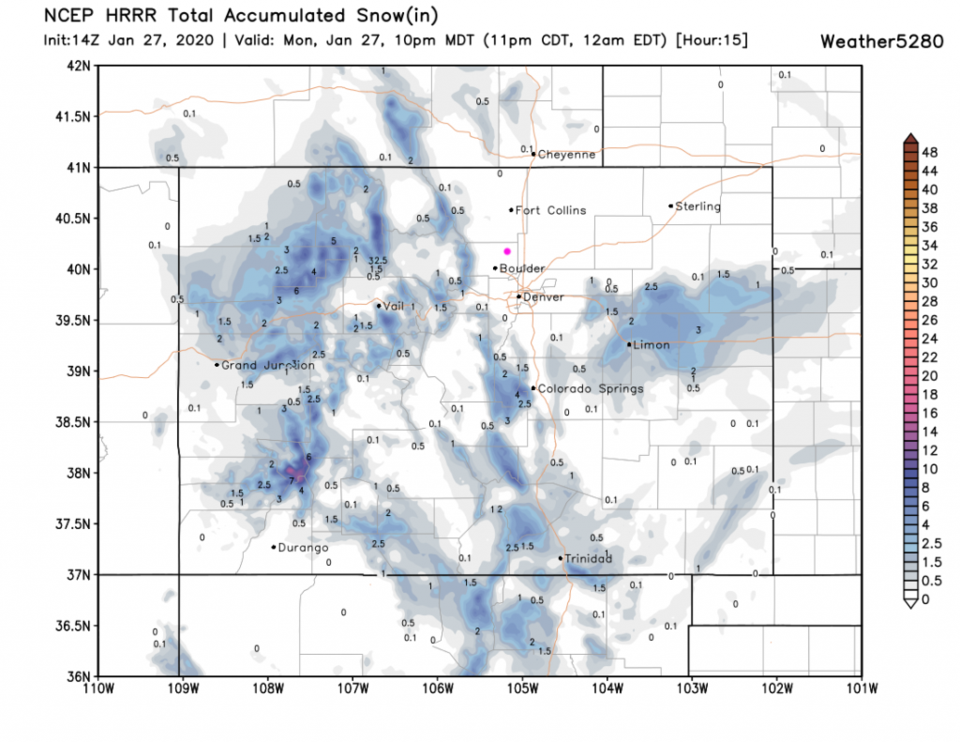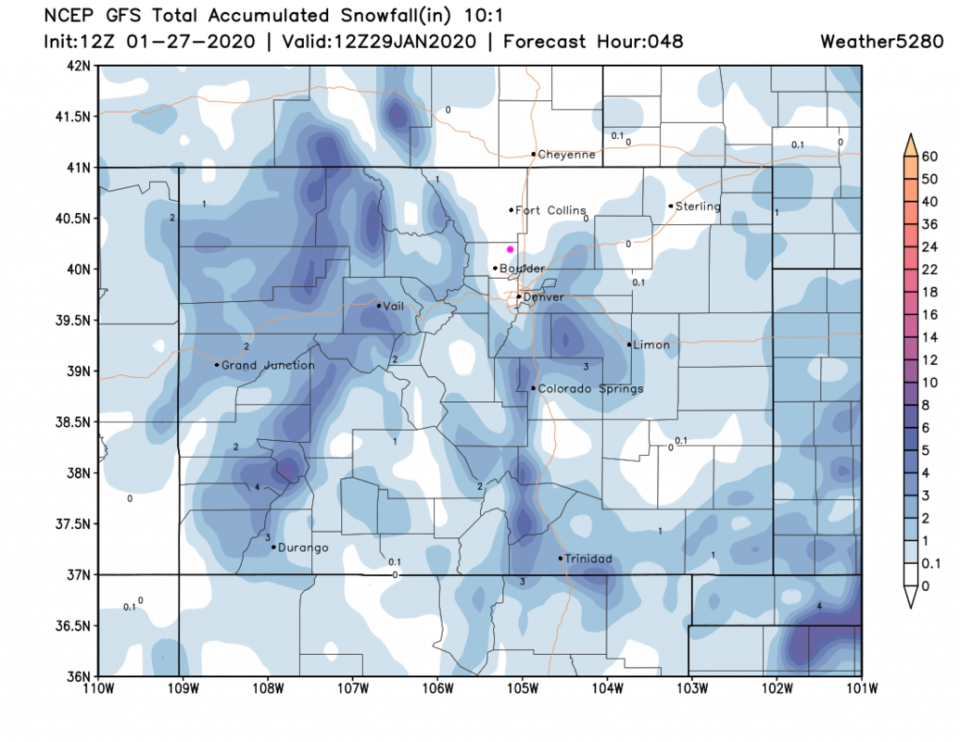 End 1/27 9am update.
Forecast Discussion:
The overall weather pattern is not very exciting, I'll admit. Looking upstream, you can see the rain and embedded thundershowers out in Nevada and Idaho formed by our next weather maker - a trough headed in for Monday (Figure 1). This trough is a quick mover and not overly strong (Figure 2). The overall dominate western ridge pattern is visible holding strong in the face of this small intruder stretching from northern Mexico up into north Canada. What a ridge!
The chance of precipitation begins before dawn and fades out in the early evening... this will be mainly rain showers with *maybe* some snow in the air at colder times of the day. You'll be lucky to actually see snow falling along I-25 (Figure 3). By Monday night, a sloppy mix of rain and snow is hitting the Western Slopes with hit or miss showers around here (Figure 4).
For this first wave, the GFS skips painting Longmont with measurable snow or rain (Figure 5 and Figure 6).
The Longer Range Forecast:
Another short wave is timed to hit Wednesday afternoon/evening with a better shot of snow. We might get a coating of snow (the NAM in Figure 7 gives us a coating to 1/2 inch) Wednesday night.
The GFS is not impressed by the second wave either and only gives Boulder a coating of snow over the next 6 days (Figure 8) and gives us 0.05 inch of water (rain) over that time frame (Figure 9).
The revenge of the ridge is expected for next weekend with near record or record breaking heat - temperatures may approach or break 70F. We'll see about that. But yikes.