This content was originally published by the Longmont Observer and is licensed under a Creative Commons license.
In Brief:
Very nice mild weather weather is the story for this upcoming week. A trough will pass Tuesday and kick up some winds and cool us down, but we recover to the 70'sF until the weekend. A chance of rain (and snow?) return at the start of next week.
Update 10/13 3pm:
It is too beautiful out there to stay inside at the computer long, but the snow for Sunday/Monday 10/20-21 is looking like it might be a bigger deal. This is your heads up for next weekend.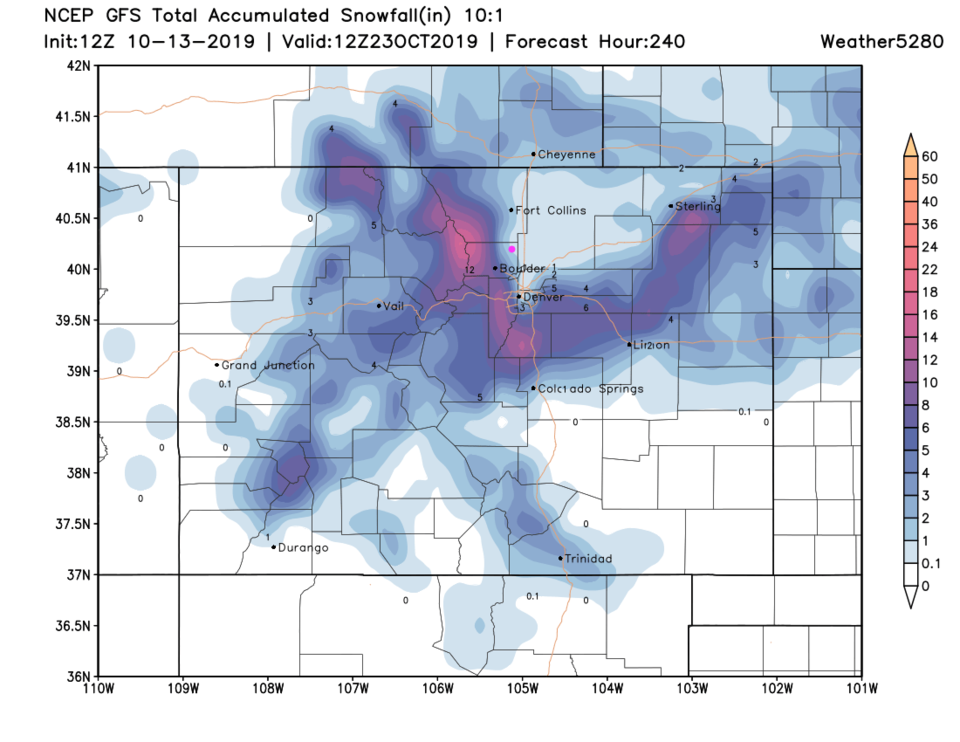 End update 10/13 3pm.
Forecast Discussion:
The cold front continues plow across the nation this weekend as we begin our warm-up. Dry and warmer conditions is the simple story for this long weekend (Figure 1). We'll even see 70'sF Monday (Figure 2).
The Longer Range Forecast:
A passing upper level trough cools us about 10 degrees Tuesday with a windy morning (not shown). Little precipitation is expected. We bounce back to the 70'sF for the rest of the week (Figure 2). This warmth is created by a ridge as it drifts over the state (Figure 3). There is indication of a return of cool wet weather next Sunday (Figure 2) with snow up in the mountains (some runs give us a bit of snow as well - Figure 4).