This content was originally published by the Longmont Observer and is licensed under a Creative Commons license.
Forecast Discussion:
Things are on track for a warm weekend and a cold/wet/snowy Columbus Day. We have gusty down-slope winds buffeting Longmont Friday evening and it may still be breezy at times on Saturday.  Temperatures will be in the mid to upper 70's east of the mountains (Figure 1).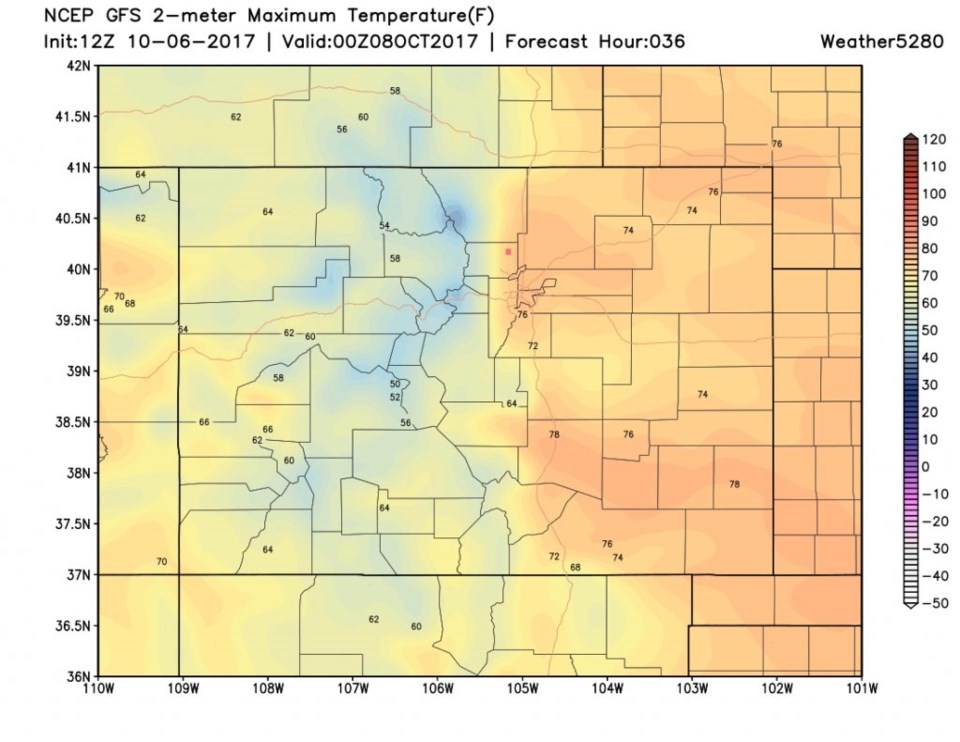 In the Longer Range:
Our next storm is coming more into focus (there is more model agreement at least). The trough is barreling over us on Monday as seen in Figure 2. The GFS total liquid (rain and melted snow) forecast for this storm in Longmont (Figure 3) seems to be in the 0.25 to 0.5" range. The total snowfall (Figure 4) looks to be in the 2-3" range. The National Weather Service is calling for 1-4" along I-25 and 5-10" up in the higher mountains.
The timing seems to have the front hit Longmont around 7pm with rain chances picking up around 9pm and a change over to snow after midnight Sunday.  The snow (or rain/snow mix) should taper off later Monday morning with rapid clearing behind the trough Monday afternoon. Temperatures should be in the mid to lower 20'sF Monday night into Tuesday morning. We'll go back to the 20's F Wednesday morning as well.
Tropical Storm Nate (in Figure 5) is already about to graze the Yucatan and will be dangerously close to New Orleans - in the present forecast- Saturday night as a Category 1 storm.   More on Nate and our snow as the weekend goes on!