In Brief:
Dry heat begins.
Sunday update:
The west coast ridge arrives at the four corners taking us to near maximum temperatures. We might see our first 100F+ Monday. Storms return in the middle of the week. The NWS has issued the following advisory.
Heat Advisory
Issued: 3:13 PM Jul. 16, 2023 – National Weather Service
...HEAT ADVISORY REMAINS IN EFFECT FROM 10 AM TO 8 PM MDT MONDAY
I-25 URBAN CORRIDOR...
* WHAT...High temperatures in the upper 90s to around 100.
* WHERE...Fort Collins, Boulder, Denver, and Greeley.
* WHEN...From 10 AM to 8 PM MDT Monday.
* IMPACTS...Hot temperatures may cause heat illnesses.
PRECAUTIONARY/PREPAREDNESS ACTIONS...
Drink plenty of fluids, stay in an air-conditioned room, stay out of the sun, and check up on relatives and neighbors.
Take extra precautions when outside. Wear lightweight and loose fitting clothing. Try to limit strenuous activities to early morning
or evening. Take action when you see symptoms of heat exhaustion and heat stroke.
To reduce risk during outdoor work, the Occupational Safety and Health Administration recommends scheduling frequent rest breaks in shaded or air conditioned environments. Anyone overcome by heat should be moved to a cool and shaded location. Heat stroke is an emergency! Call 9 1 1.
End Sunday update.
Tuesday Update:
My time in the forest is coming to an end soon - I'll be able to get the bandwidth to post a full report soon. In the meantime, I'm updating to cover the fact that the storms are finally becoming the exception rather than the rule. Strong high pressure is moving in and expanding up from New Mexico and Arizona. Temperatures will be approaching 100F along I-25 for much of the rest of the week with very low rain/storm chances.
There is a front and a cool down coming Thursday night, but we bounce back to the 90's by the start of next week. More later when I get back on Longmont NextLight.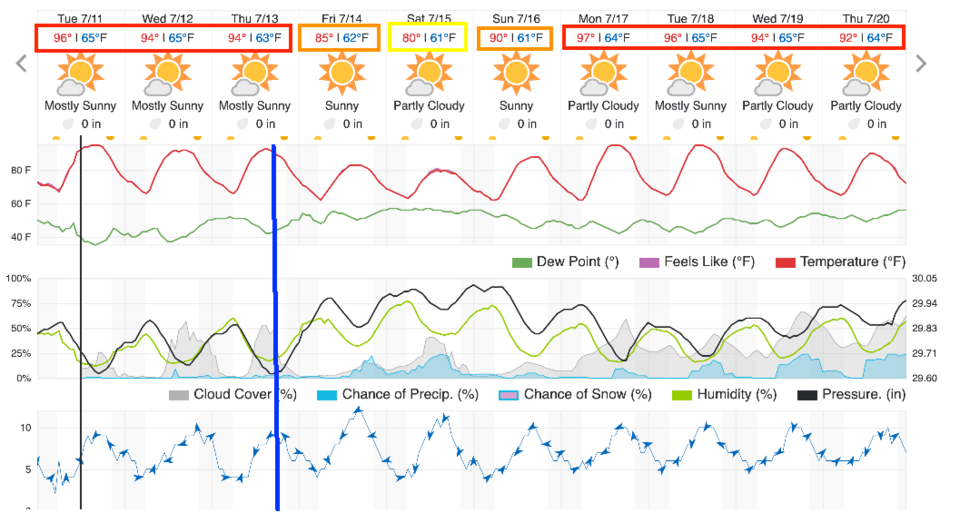 End Tuesday update.
Fri Update:
Even though storm coverage across Colorado was MUCH less than previous days, large hail and tornadoes hit a few parts of the state. Tornado chances remain with us through Saturday and hail through Sunday (Figure 1 update). Keep an eye on the skies and weather sources.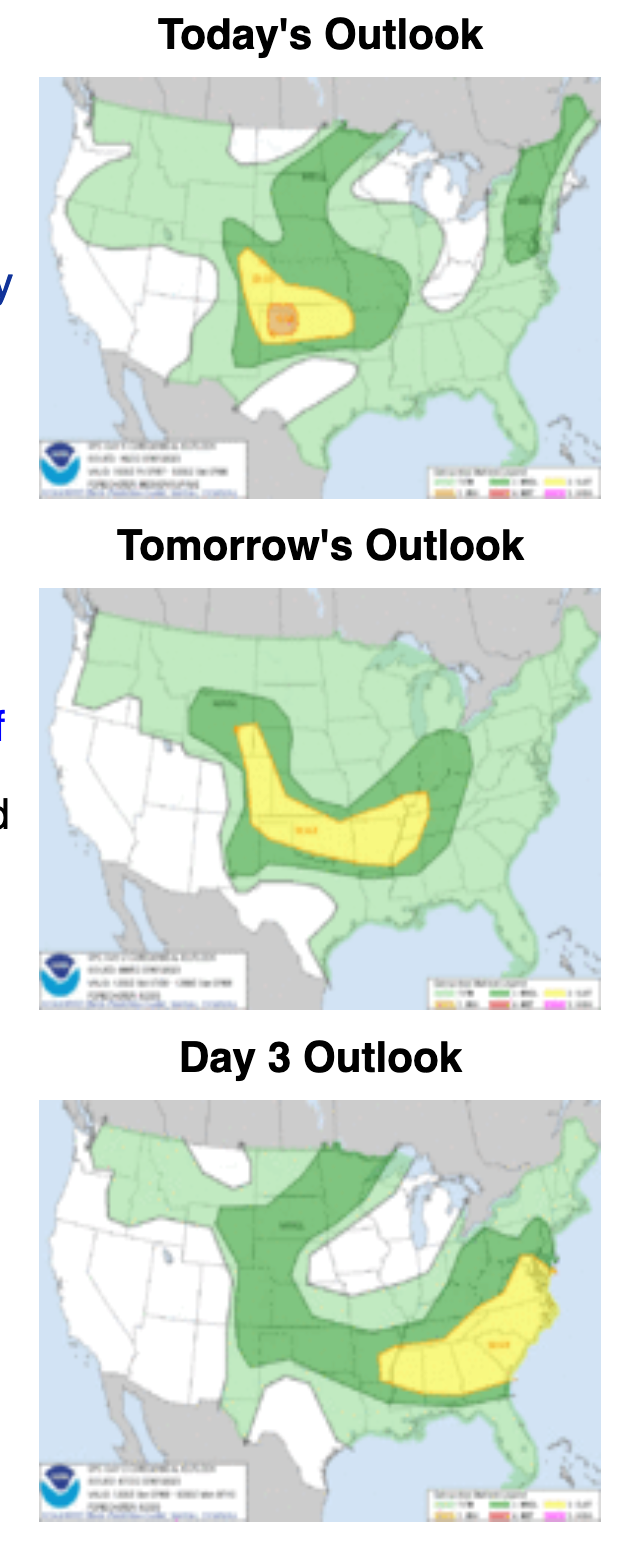 End Friday update.
Wed Update:
Sorry I can't get graphics up today, but after a marginal (1 out of 5) risk north of Denver and a slight (2 out of 5) south of Denver today (Wednesday). Most of northeastern Colorado will be under a slight or enhanced risk for severe weather Thursday and Friday (3 out of 5). Tornadoes, damaging hail and winds are on the table for many localities.
The hail damage and locally flooding rains continue!
End Wed update.
Forecast Discussion:
We break 90F again today for only the second time this year. Enjoy it because an approaching trough from the west and a return of moisture with a front overnight will kick off more severe weather and cool things down a lot for Independence Day and Wednesday (Figure 1). Storms will be numerous across the northeast half of the state (Figure 2).
The Marginal Risk (1 out of 5) of severe weather covers the central and southern mountains and the northwest corner of the state (Figure 3). Hail and high winds are the risk there.
The Slight Risk (2 out of 5) runs from Pueblo into Wyoming and deep into the central and northern mountains and all points east. Hail and high winds are the risk there as well. I expect the SPC will increase coverage and might even draw in a Moderate Risk (3 out of 5) for places near I-25 and eastward later today or in the morning as more data and model runs come in.
The tornado risk (where again the risk may expand as the SPC works with new data) includes areas north and east of Ft. Collins presently (Figure 4).
Independence Day evening (9pm) forecast:
Temperature 66F, mostly cloudy, 70% chance of rain/storms, winds from the northeast at around 10 mph (more near any storms).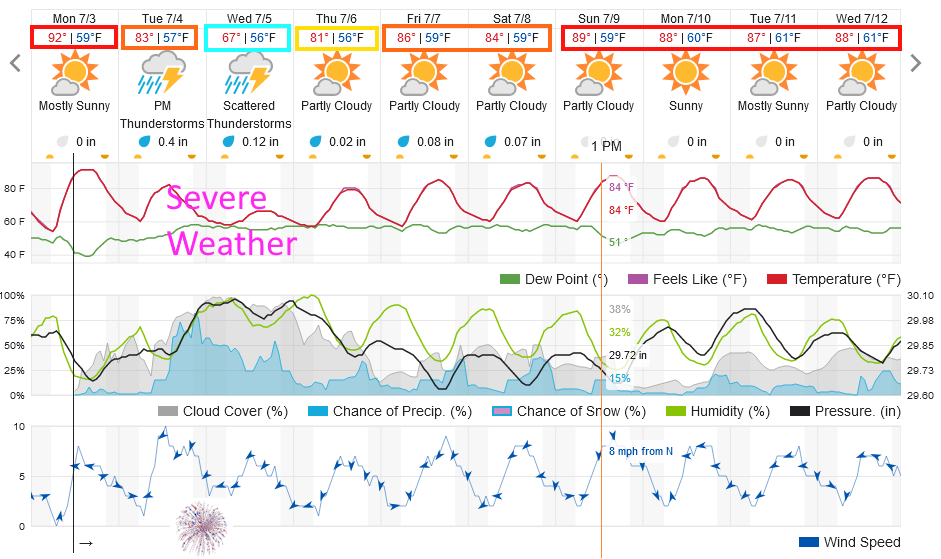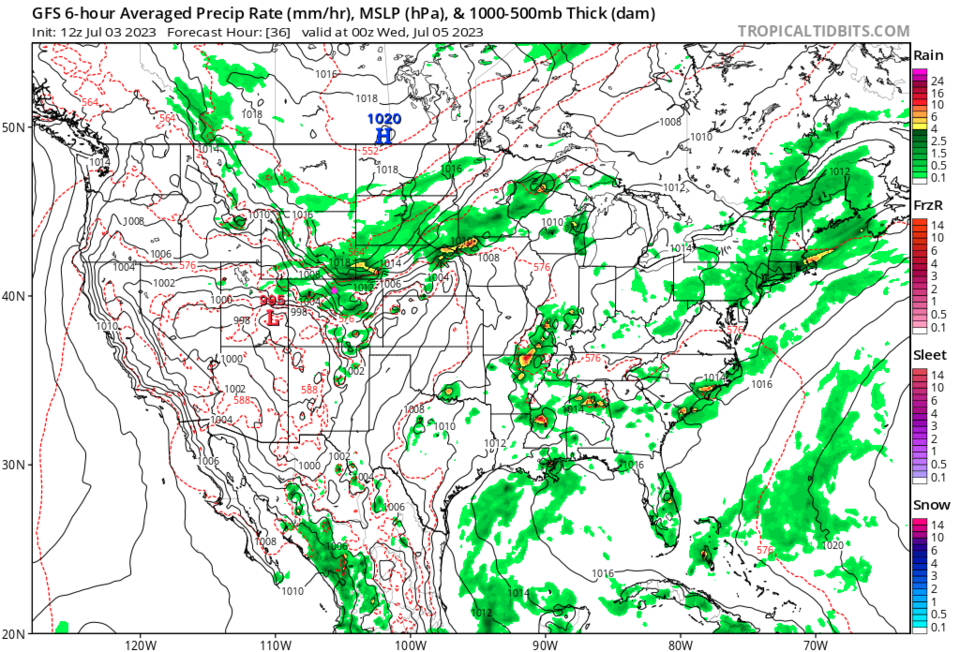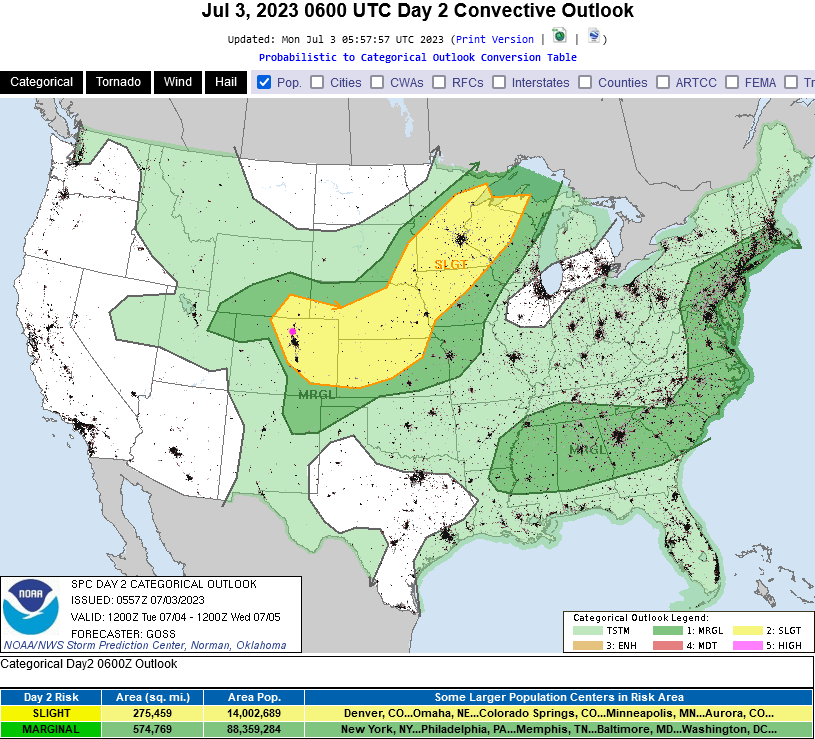 ​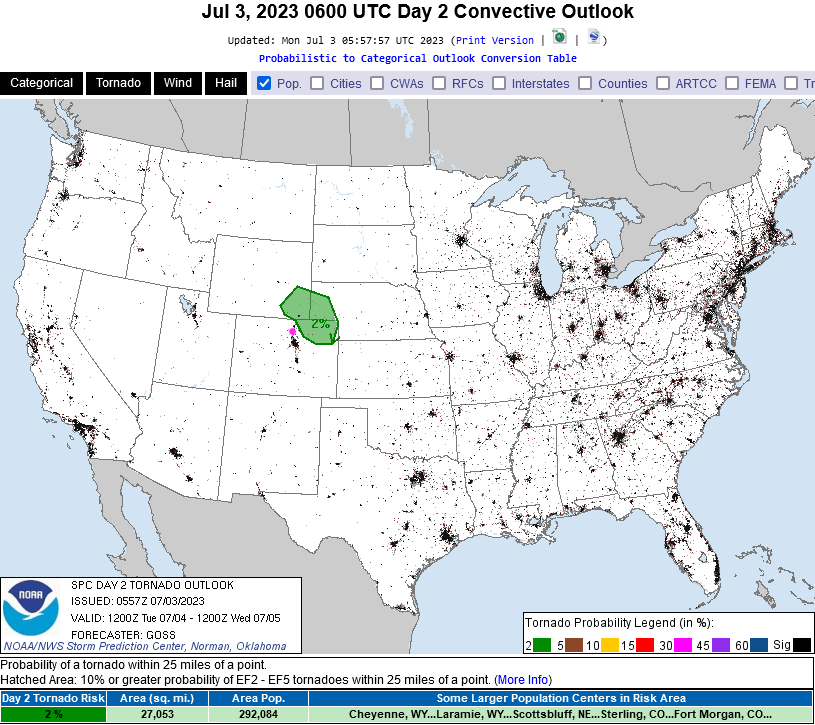 ​The Longer Range Forecast:
Wednesday looks like a repeat of Tuesday. Temperatures will be a bit cooler and the severe weather chances move a bit further south (Figure 5). Rainfall totals over the next 5 days (Figure 6) seem to remain in the 1/4th to 1/2 inch range across the region. Thunderstorms, of course, may drop a local inch or more.
After that, we warm to seasonable temperatures with small afternoon thunderstorm chances again (Figure 1).