In Brief:
Afternoon rains return, calm and cooler this week.
Sunday Update:
For a small while, the river of atmospheric moisture will swing directly over Colorado. Storm coverage increases a bit more Sunday and a lot more on Monday. The amount of moisture available to create rain may be as high as 170% of normal for this time of year Monday. Expect flood watches and maybe warnings for the burn scars and urban corridor.
Temperatures cool to normal most of the week with afternoon storms now and then.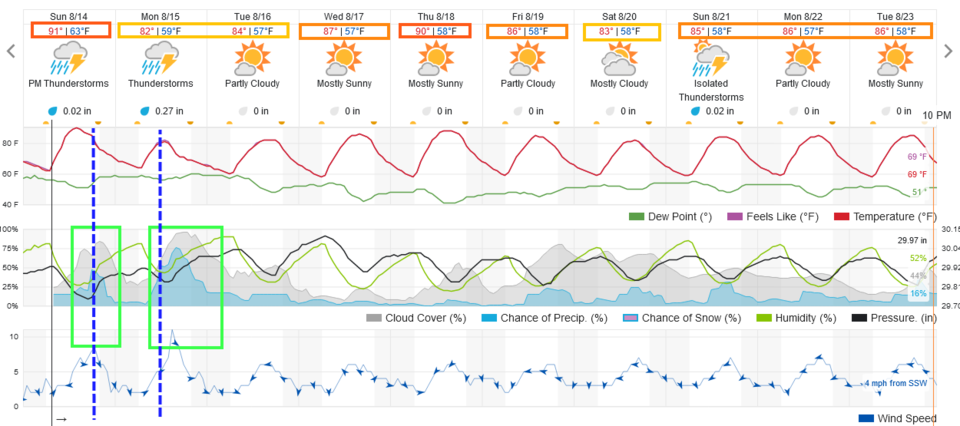 End Sunday update.
Tuesday Update:
The moisture has departed for now. We'll hardly see clouds until Thursday when afternoon storms begin to return. It looks like we'll see 80's and lots of storms starting Sunday. Enjoy summer for now! (Figure 1 update)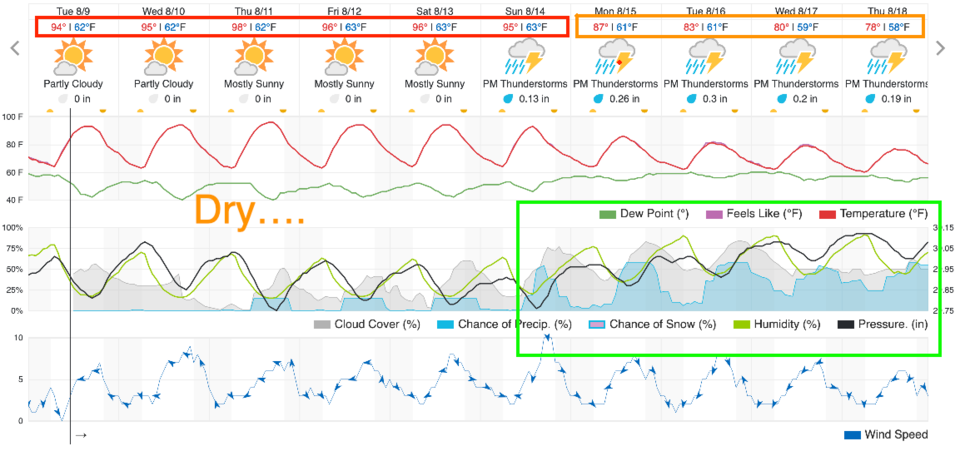 End Tuesday update.
Forecast Discussion:
The cold fronts have held off a bit making Saturday seasonably warm. Moisture has decreased a bit but there will be a chance of a brief storm Saturday afternoon. Once the cold front arrives, we have a more extended chance of storms and showers Sunday (Figure 1). The moisture is in pretty good shape Sunday as well (Figure 2). Sunday morning, the front is just entering the state (Figure 3). As the cool air sinks south Sunday night, the showers will sink to the south as well (Figure 4).
Because of the moisture increase on Sunday and the slow motion of storms, burn scars and the I-25 corridor may see, locally, very notable rain amounts in a short time. Therefore, there is a Flash Flood Watch in place Sunday:
Issued: 3:19 AM Aug. 7, 2022 – National Weather Service
...FLOOD WATCH REMAINS IN EFFECT FROM 2 PM MDT THIS AFTERNOON THROUGH THIS EVENING...
* WHAT...Flooding caused by excessive rainfall continues to be possible.
* WHERE...Urban corridor from the Wyoming border to the Palmer Divide, including the Denver metro, and the foothills including the Cameron Peak and Calwood burn scars.
* WHEN...From 2 PM MDT this afternoon through this evening.
* IMPACTS...Excessive runoff may result in flooding of rivers, creeks, streams, and other low-lying and flood-prone locations. Flooding may occur in poor drainage and urban areas. Heavy rain may impact recent burn areas, leading to flash flooding and debris flows.
* ADDITIONAL DETAILS...
- Strong thunderstorms may produce rainfall of 1 to 2 inches in as little as 45 minutes, with locally higher storm totals possible.
PRECAUTIONARY/PREPAREDNESS ACTIONS...
Turn around, don't drown when encountering flooded roads. Most flood deaths occur in vehicles.
Move away from recently burned areas. Life-threatening flooding of creeks, roads and normally dry gulches is likely. The heavy rains will likely trigger rockslides, mudslides and debris flows in steep terrain.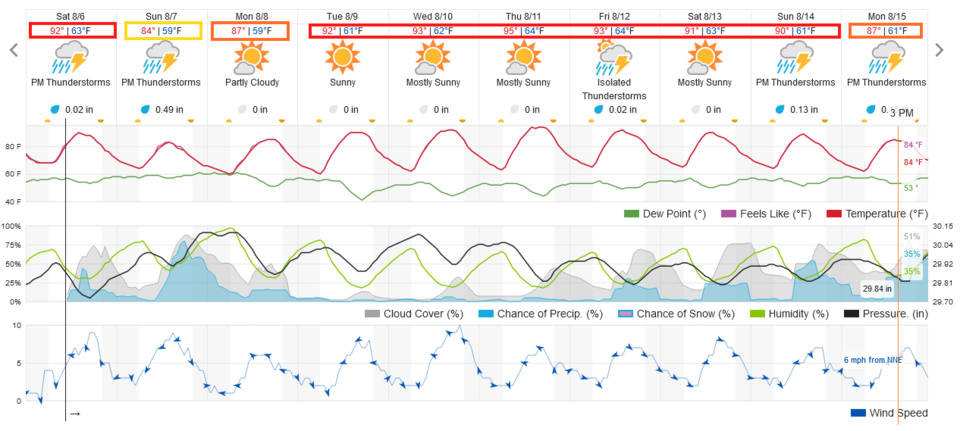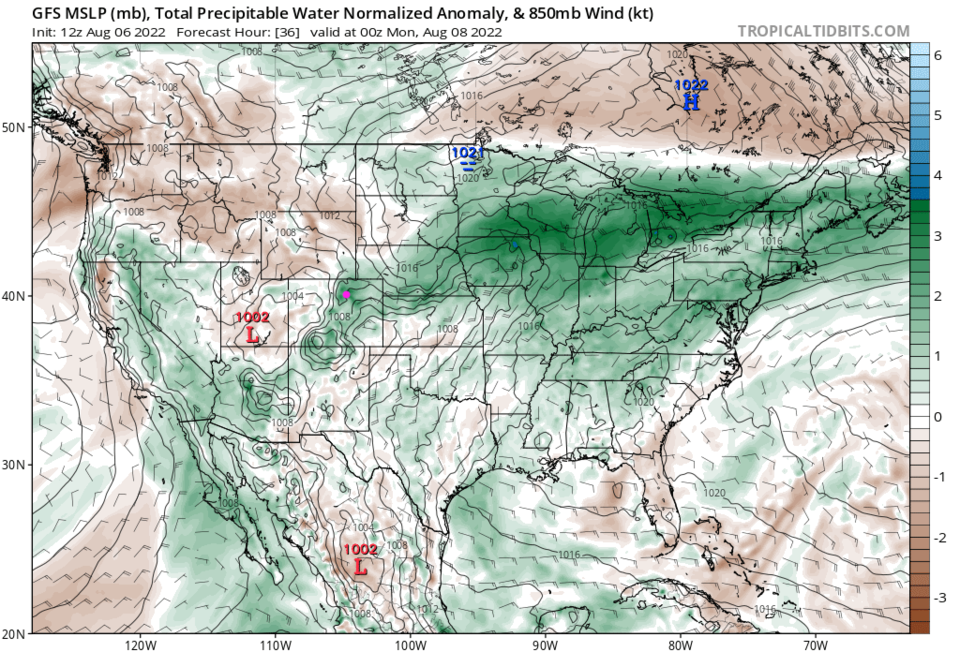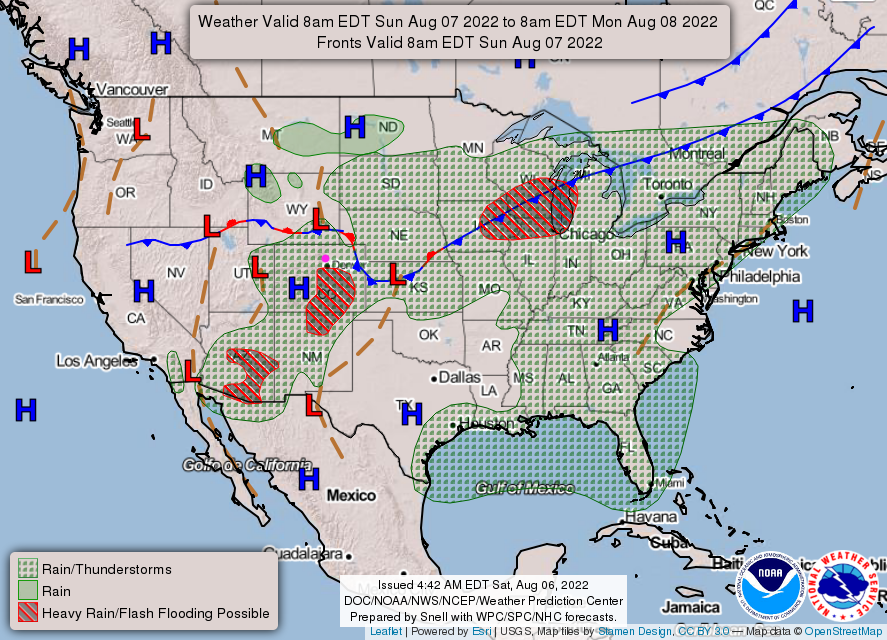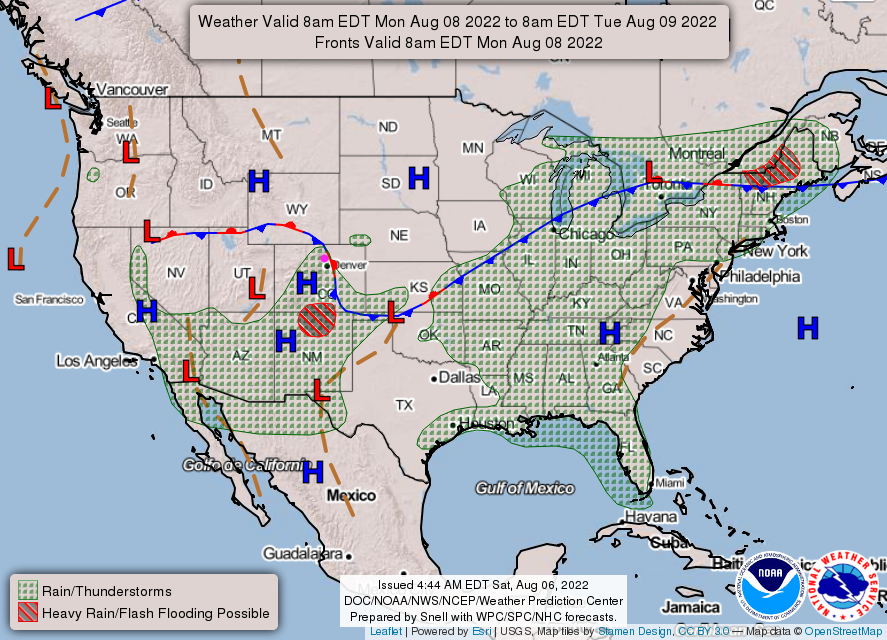 The Longer Range Forecast:
Temperatures take a couple of days to return to the lower 90's. Rain chances all but vanish until the end of the week (Figure 1). Most of the rain (heavy for those that get thunderstorms, not so much elsewhere) will remain largely confined to the southeastern half of the state (Figure 5).