In Brief:
A ridge brings heat and summer pattern moisture.
Monday update
We are finally in the 'routine' of summer. The National Weather Service has used the 'M' word in the discussions - monsoon. There is subtropical moisture coming into the state giving most of the state a chance of afternoon thunderstorms even while a big ridge in the west keeps temperatures somewhat above normal. Stay cool and hydrated!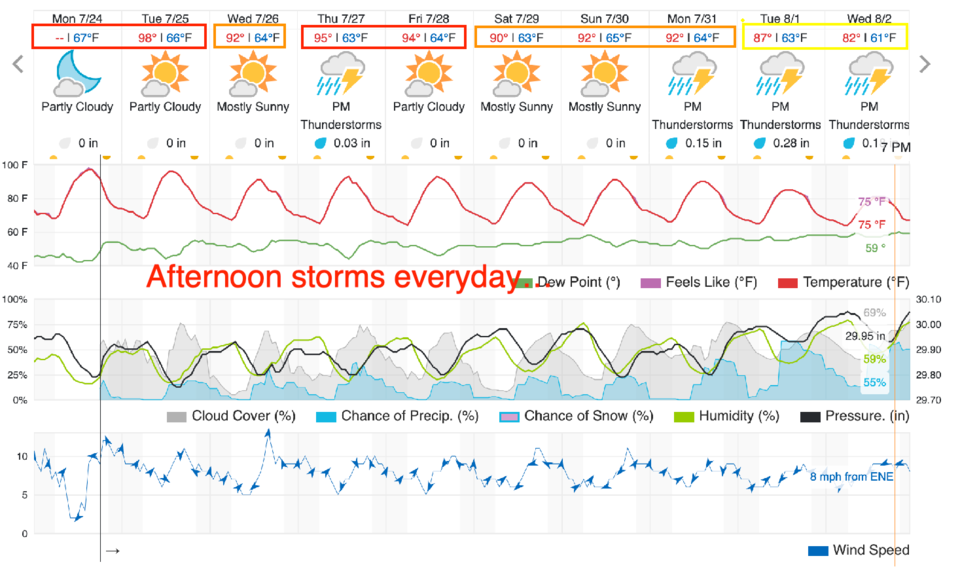 End Monday update.
Wednesday update:
Here we go again! Northwest flow brought in a cool front today. The cool front brought in moisture. Ripples in the upper air flow will be able to kick off severe storms, again, over the region.
Wednesday- Marginal risk (1 out of 5) just east of I-25 for winds and damaging hail.
Thursday (Figure 1 update) - Marginal risk up into the mountains (hail and high winds) and a Slight risk (2 out of 5) from Longmont south and east (hail, high winds, isolated tornadoes (Figure 2 update.)
Friday - Marginal risk along I-25 and east-west about 50 miles (hail and high winds). These chances may increase as we move into the mornings-of those days. Stay alert!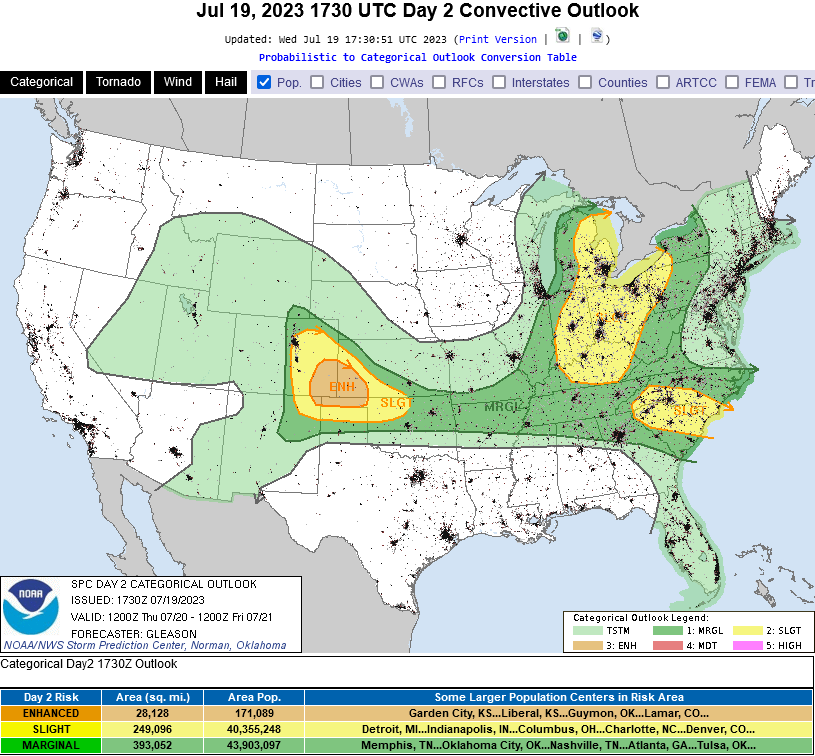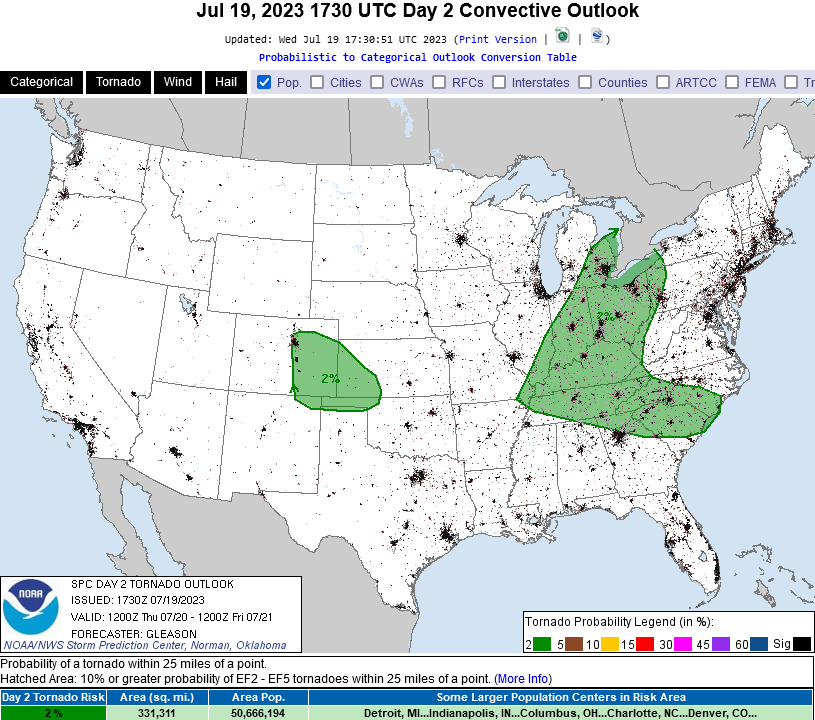 End Wednesday update.
The Forecast Discussion:
We have one more hot day on Tuesday (Figure 1) with the powerful high pressure system sitting to our south (Figure 2). It begins to back off to the west Tuesday evening allowing a cool front to arrive Wednesday morning (dotted blue line, Figure 1). Rain chances jump up right away as the front brings in more moisture (green shading Figure 3) and we cool to below normal temperatures for a couple of days.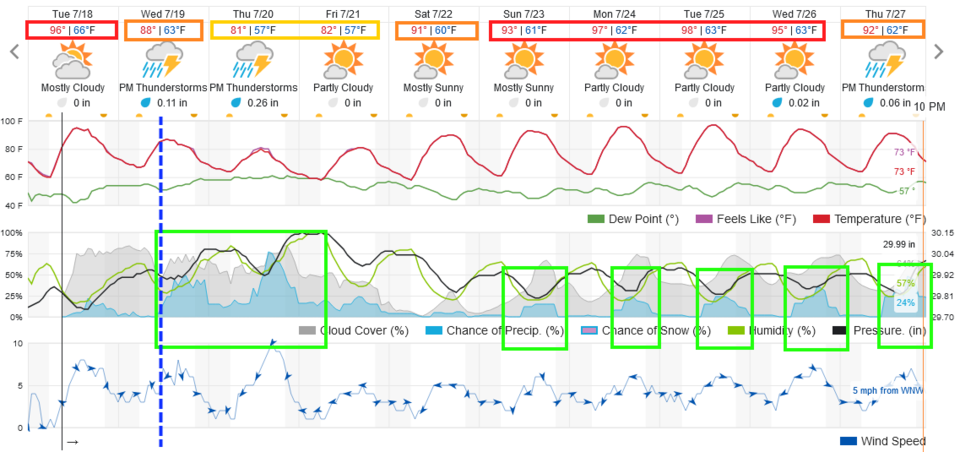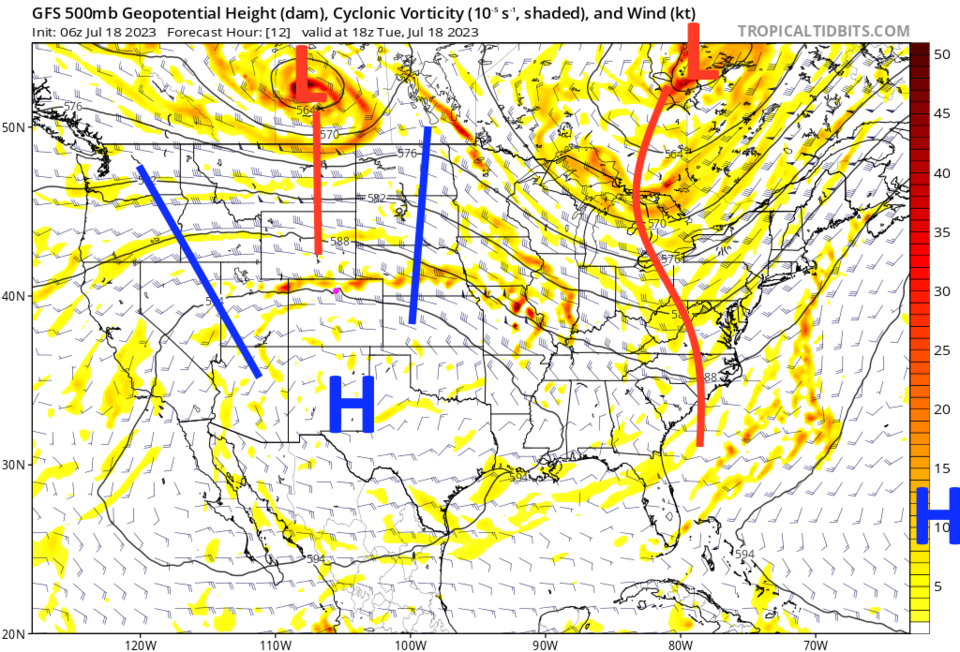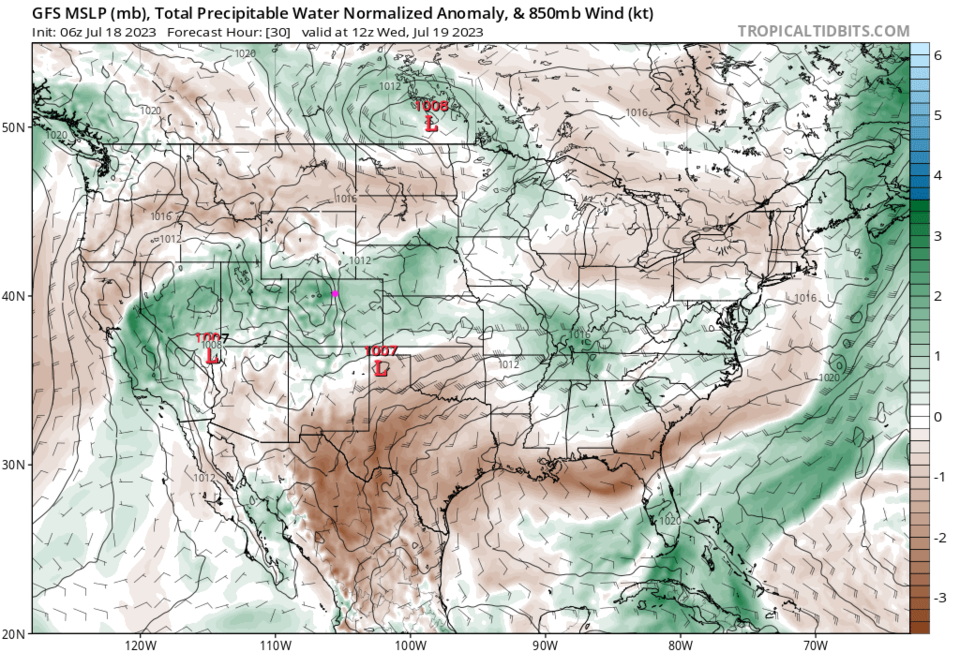 The Longer Range Forecast:
By the weekend, the ridge moves more to the west putting us into a northwest flow pattern. We dry out and warm up to normal, then above normal temperatures again next week. Notice that our "U.S. monsoon" like pattern begins to set up with afternoon storm chances and above normal temperatures (Figure 4) next week.
Rainfall over the next 5 days is light and confined, mainly, to the eastern Plains. The southwest corner of the state is still being skipped. They need rainfall to return!