In Brief:
Temperatures may top 90F before a lot of rain arrives Friday followed by snow.
Thursday Update:
The overall picture I covered yesterday is on track. The excellent forecasters at weather5280 have created their snowfall map for the state (Figure 3 update). I'll narrow things down for Longmont and Broomfield thinking (with melting and a change back to rain possible on Saturday) these two communities should see 1-4 inches of snow on grassy surfaces. This is a very wet system with most places seeing 1 inch of water (locally 2 to 2.5 inches is possible).
The NWS has issued a Winter Storm Watch for lower elevations for 4-12 inches of snow and winds as high as 35mph for central, north central, and northeast Colorado. They have issued a Winter Storm Warning for RMNP, the Medicine Bow Range, and the Northern Front Range Foothills for 12-24 inches of snow and winds as high as 35mph.
Precipitation should begin before sunrise Friday and change to snow around 5-7pm Friday and maybe back to rain around noon Saturday as precipitation decreases.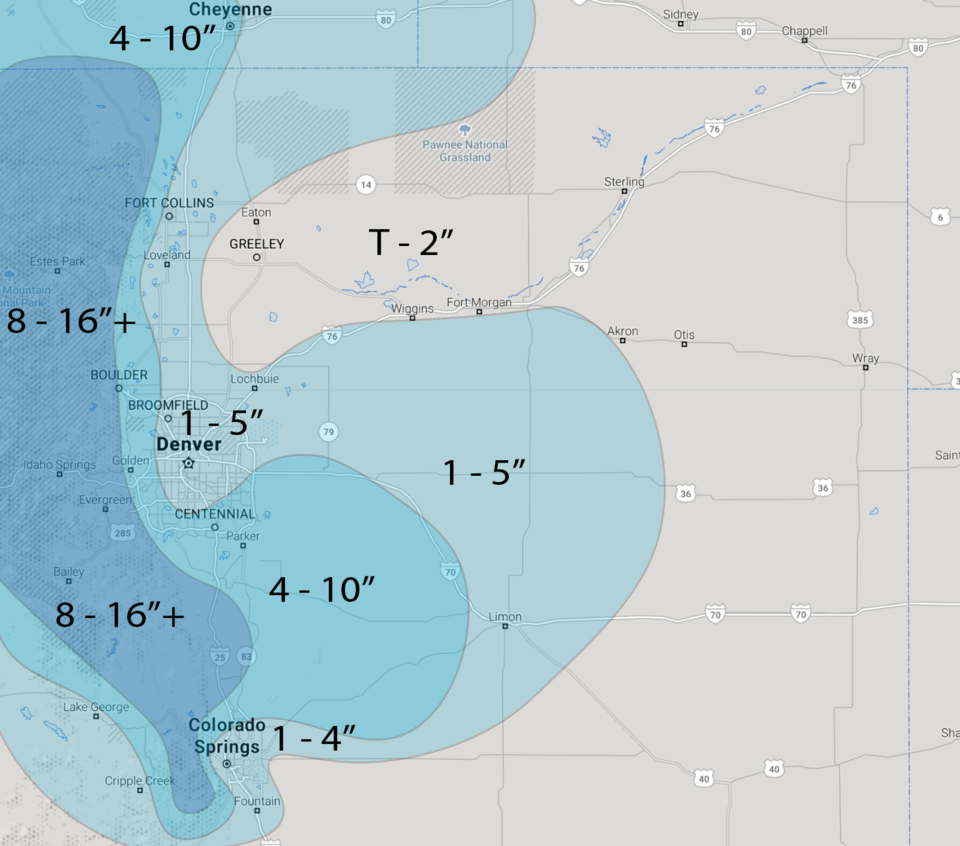 End Thursday update.
Wednesday Update:
I think we are more likely to see 2-4 inches of snow late Friday into Saturday morning build up on grass, but things could get to tree damaging, plant killing, road "slushing" levels (Figure 2 update). (We might approach or exceed 2 inches of total water, rainfall and snow melt.) The weather service has now issued the following watch:
ISSUED: 2:57 PM MAY. 18, 2022 – NATIONAL WEATHER SERVICE
...WINTER STORM WATCH IN EFFECT FROM FRIDAY AFTERNOON THROUGH
SATURDAY MORNING...
* WHAT...Heavy snow possible. Total snow accumulations of 4 to 10 inches possible. Winds could gust as high as 35 mph.
* WHERE...Portions of central, north central and northeast Colorado.
* WHEN...From Friday afternoon through Saturday morning.
* IMPACTS...Travel could be very difficult. The hazardous conditions could impact the evening commute. Heavy snow could break tree limbs that could lead to power outages.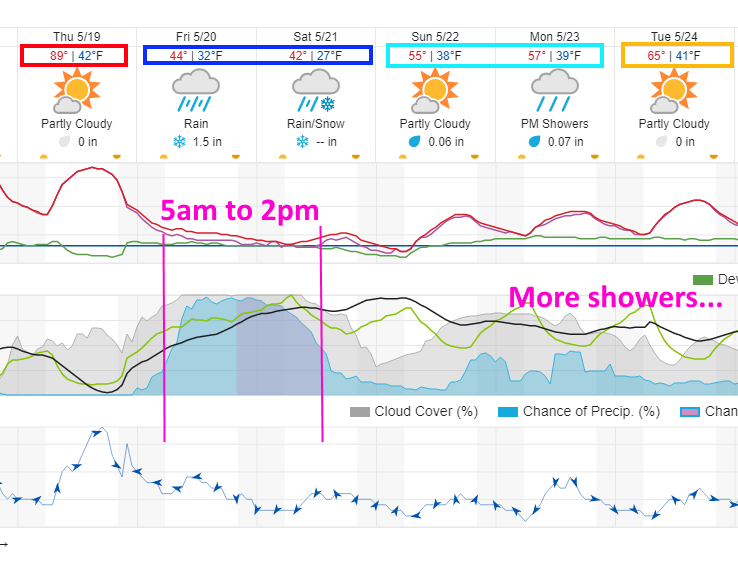 End Wednesday update.
Tuesday Update
Storms should begin to fire over the foothills around 1pm Tuesday. They may produce fairly large hail and damaging winds at their peak today. Storms are most widespread around I-25 around 3-4pm (Figure 1 update). We are under a marginal risk for severe weather (1 on a scale of 1-5 with 5 being the most dangerous) from about Broomfield over to Boulder and up to the northeast (Figure 2 update).
A big cold front hits Thursday 6pm with rain beginning around 1am Friday and continuing to about 5am Saturday. Rain may change to snow at the end of the storm at the lower elevations. Estes Park may see 3-5 inches of snow while Nederland may see 7-10 inches. Finally - some interesting weather to cover!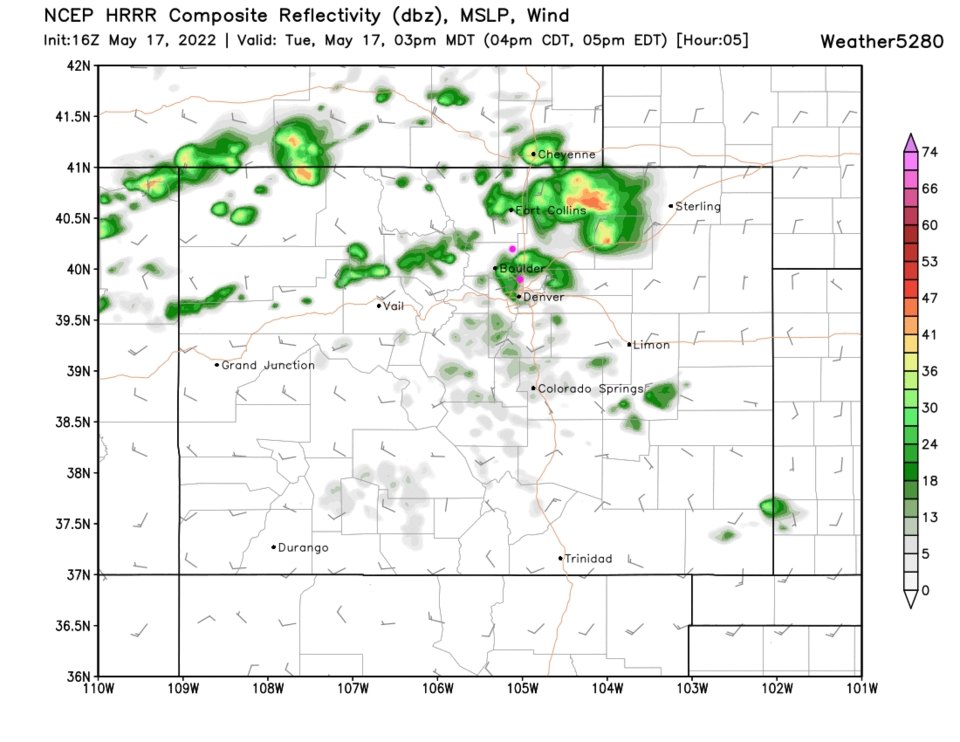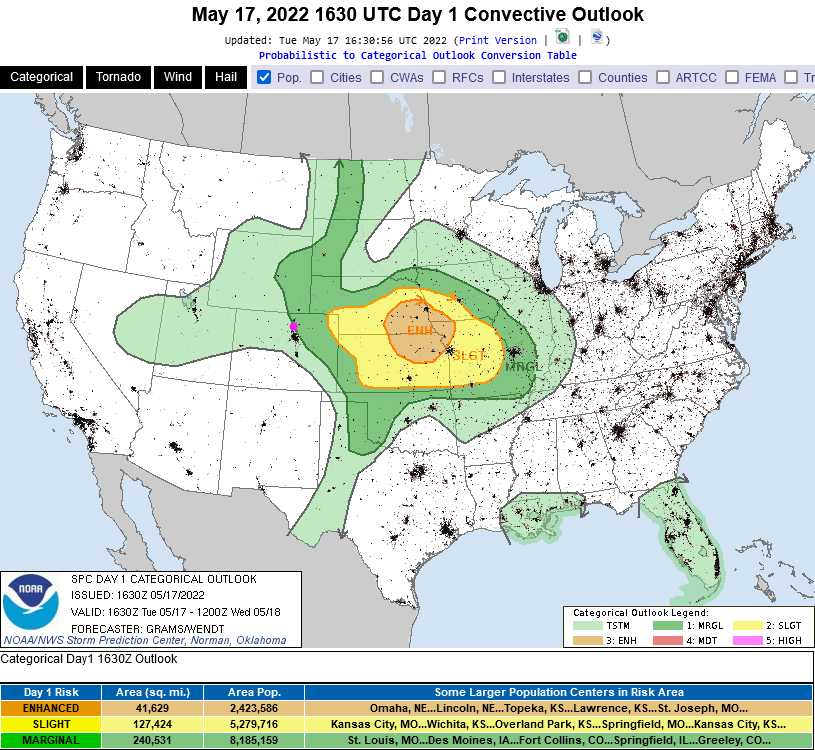 End Tuesday update.
Forecast Discussion:
After a VERY uneventful week, things are starting to happen in the weather and the sky. Tonight (Sunday 5/15) clear skies (red arrows Figure 1 and 2) should allow everyone to enjoy the total lunar eclipse taking place from about 8:30 to almost midnight low in the southeastern sky. You are invited to look through the telescopes of the Cherrywood Observatory. Details may be found here.
We continue to make it to the 80's each day as the week begins until Tuesday/Wednesday. (See the Longer Range Forecast below.)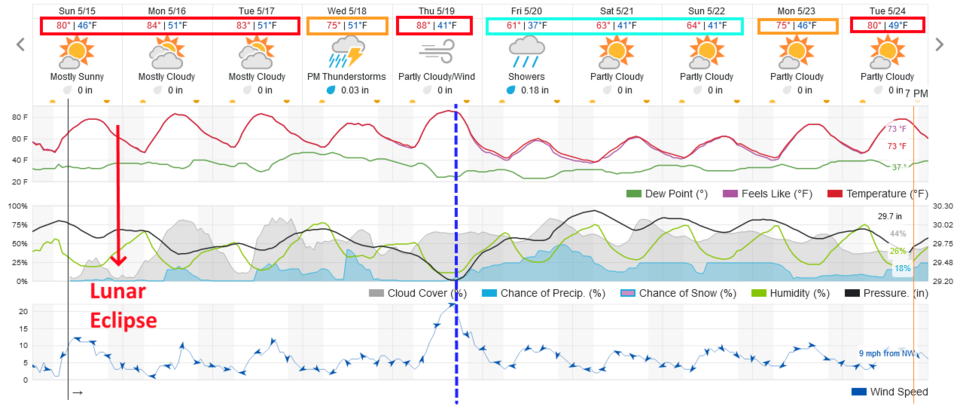 The Longer Range Forecast:
Starting Tuesday, some moisture makes it back to the Front Range before a cool front pushes it away (Figure 3). If the cool front doesn't come in too early, there is a Marginal Risk (1 on a scale of 1 to 5; Figure 4) of severe weather Tuesday. That may repeat Wednesday. Some rain should hit the northeastern half of the state over the next five day (Figure 5). Although there is model disagreement this far out, a major cold front is expected on Thursday (Figure 1) with a return of cooler temperatures, more rain, and snow at lower elevations in the mountains. Before this front, we'll see temperatures peak again (almost 90F on Thursday) with strong winds increasing fire danger again. I'll post an update as details of this next system solidify.