In Brief:
Chilly with some snow Friday, a big storm possible as the week begins.
Thursday update.
As we try to thaw out from our deposit of ice, another front/cold air surge will bring chances of snow most of the day on Friday with a peak/burst of snow in the afternoon right before the drive time (Figure 2 update). Right now, it looks like snow accumulations will be really light along I-25 (Figure 3 update).
I do want to highlight the next cold front on Monday where a more significant period of snowfall is expected (Figure 2 update). The GFS is going crazy with this one presently giving the areas around Boulder to western Denver 12-14 inches of snow. Areas along I25 from Ft. Collins to Denver get 6-10 inches.
Forecasting wisdom says to not forecast with confidence the NEXT storm until the current storm (Friday) is done. This is more of a heads up than a firm snowfall forecast at this point.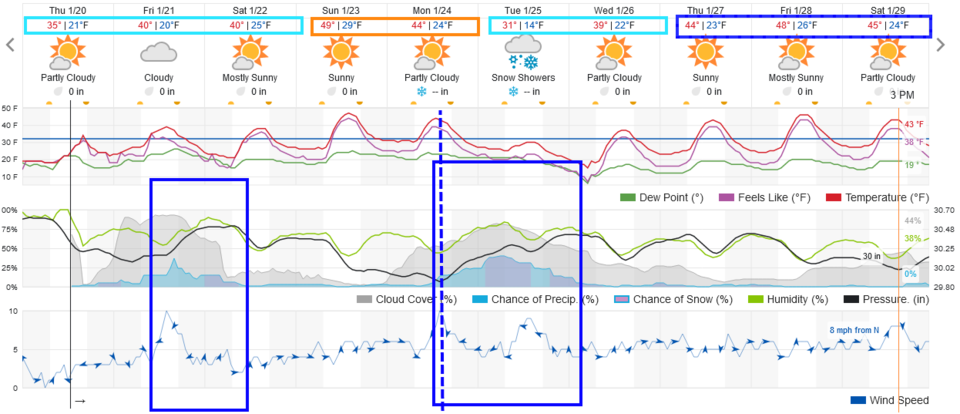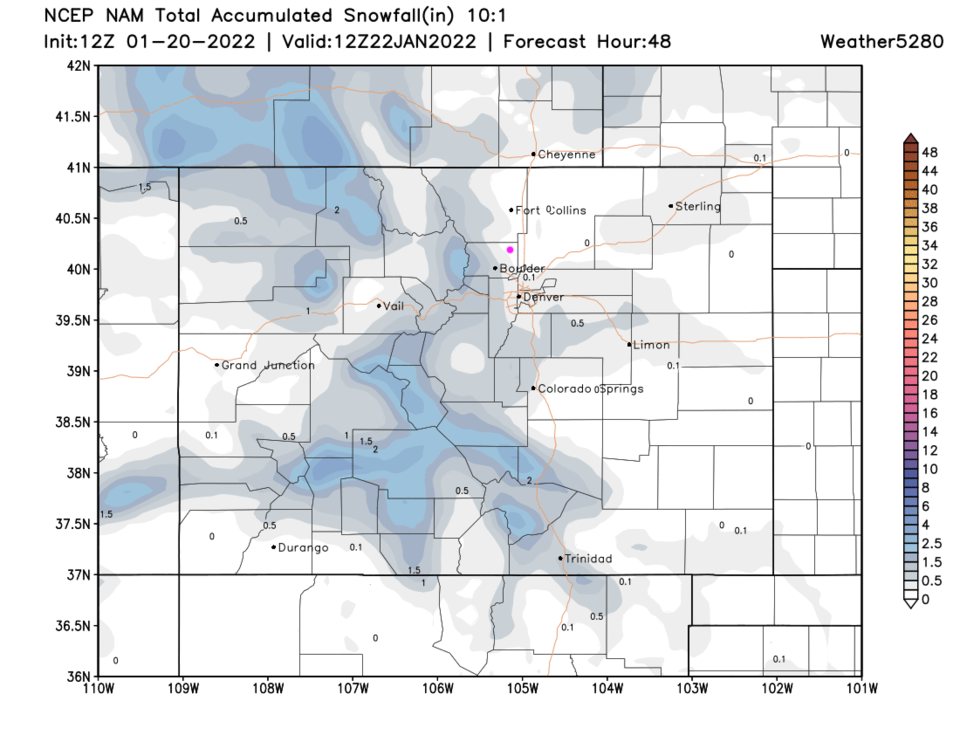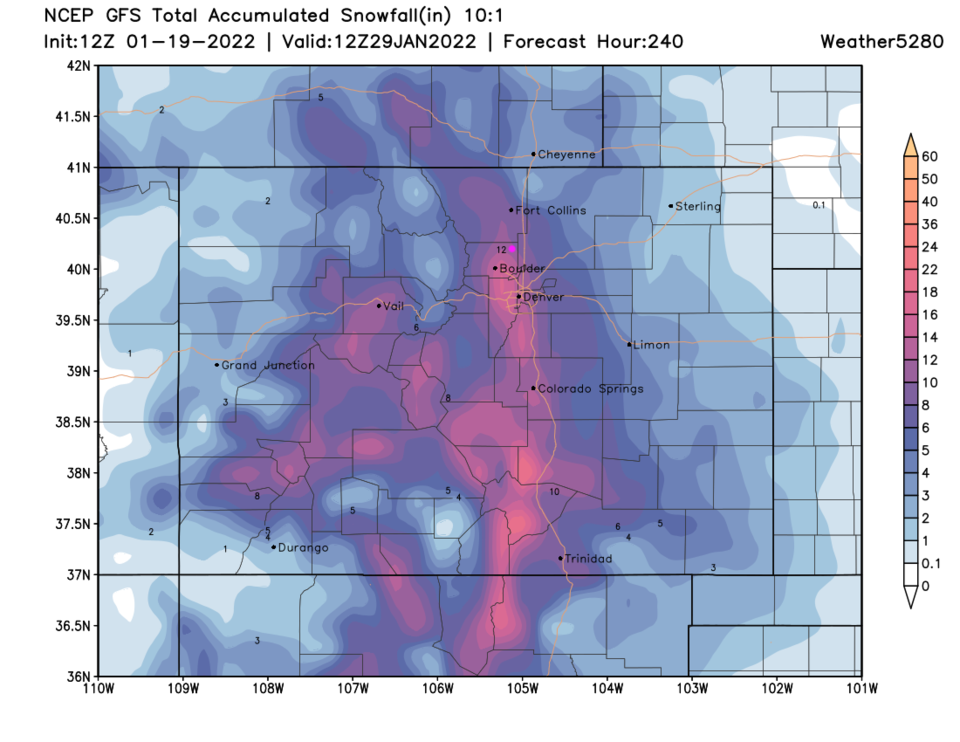 End Thursday update.
Tuesday Update:
A weak and quick moving system will impact the state Wednesday. The temperature profile is such that freezing rain is possible in the morning. It doesn't take much of that form of winter weather to impact travel. The areas under a winter weather advisory (text below) is shaded blue in Figure 1 update. Be safe in the morning!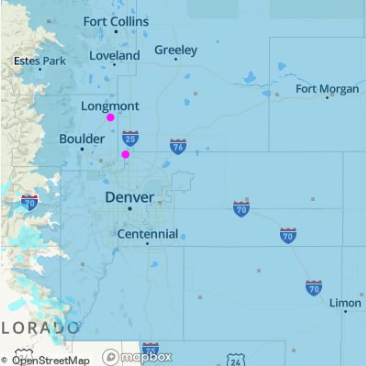 Winter Weather Advisory
Issued: 2:49 PM Jan. 18, 2022 – National Weather Service
...WINTER WEATHER ADVISORY IN EFFECT FROM 5 AM TO 8 PM MST
WEDNESDAY...
* WHAT...Freezing drizzle and light snow expected. Total snow
accumulation up to one inch and ice accumulations up to a tenth of
an inch.
* WHERE...Portions of central, east central, north central, and
northeast Colorado.
* WHEN...From 5 AM to 8 PM MST Wednesday. Worst conditions in the
morning.
* IMPACTS...Icy roads will make travel very difficult. Plan on
slippery road conditions. The hazardous conditions could impact
the Wednesday morning and evening commutes.
PRECAUTIONARY/PREPAREDNESS ACTIONS...
Slow down and use caution while traveling. The latest road
conditions for Colorado can be obtained by calling 5 1 1 or by going
to www.cotrip.org
Roads will be slick resulting in slow and hazardous travel. Allow
extra time to reach your destination.
Sidewalks may be icy and very slippery.
End Tuesday update.
Forecast Discussion:
This holiday weekend will be beautiful (Figure 1). The warmest day of the weekend will be MLK Day as temperatures along I-25 approach an impressive (for mid-January) 60F.
The jet stream flow aloft will be out of the northwest (Figure 2) with a large ridge sitting to our west. All eyes will be on a deep south and east coast winter storm that will dump a lot of rain, ice, and snow depending on which side of the low a given city is located (Figure 3).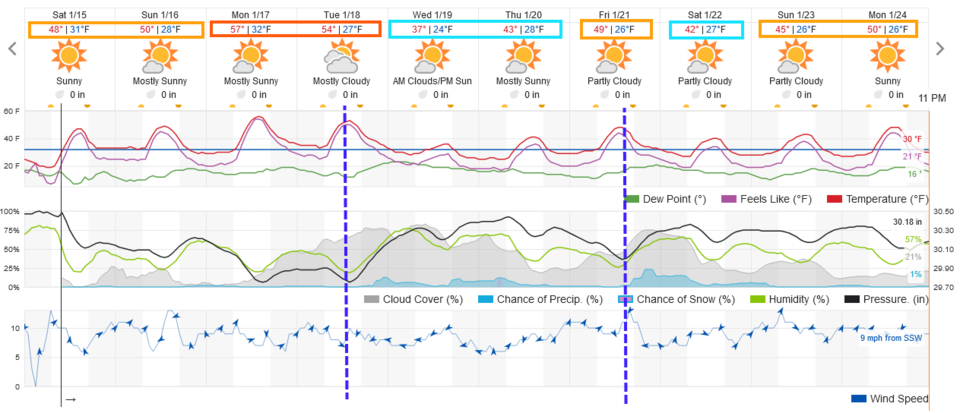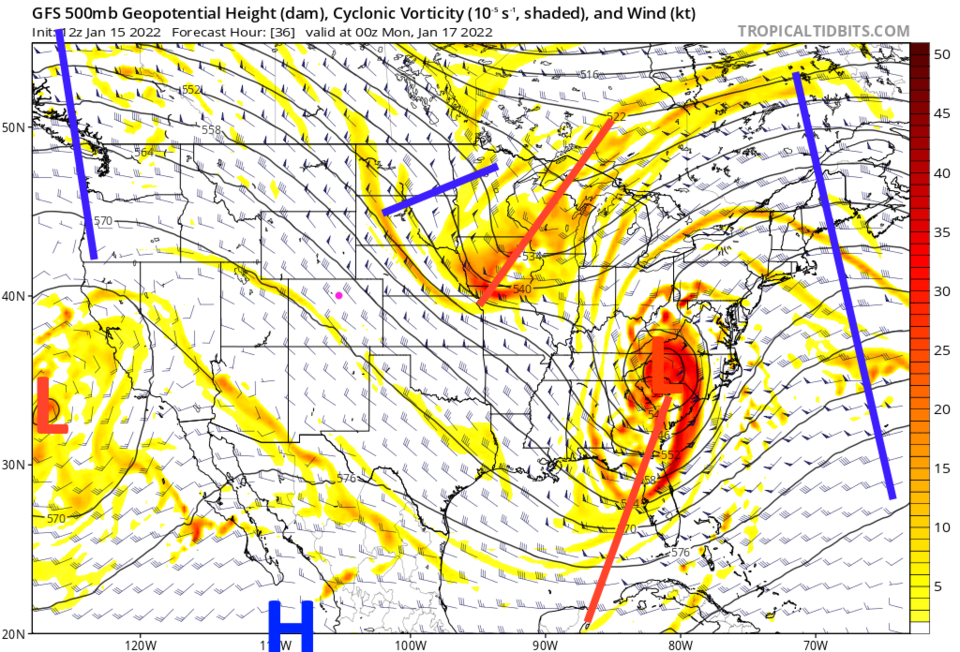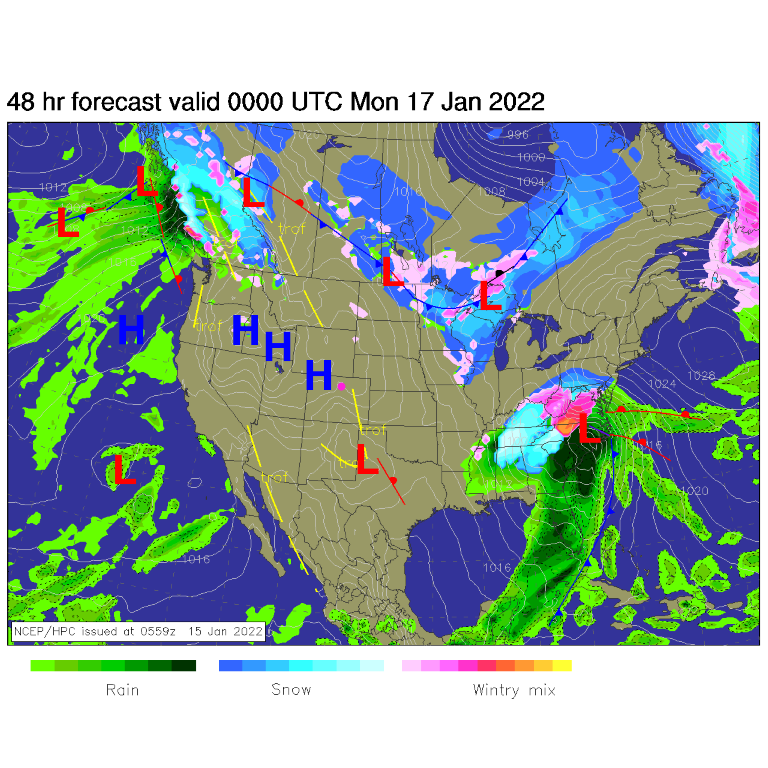 The Longer-Range Forecast:
A chilly cold front sweeps down the state midday Tuesday, but precipitation chances with it are pretty low (Figure 1). Another front Friday 'maybe' has a better chance of giving us a bit of snow. The GFS shows pretty minor snow amounts statewide over the next 10 days (Figure 4).