In Brief:
Slightly drier on Independence Day - more storms return later in the week.
Sunday Update:
After storms clear Sunday night, Monday and Tuesday will see a bit less thunderstorm activity (but you still may be hit each afternoon).
Moisture increases and storms become more numerous later in the week.
Firework Forecast:
At 9pm Monday, temperatures should be around 78F with mostly cloudy skies. Winds will be from the west at about 7mph with about a 10% chance of storms. It should be a great night celebrate Independence Day.
End Sunday update.
Thursday Update:
Hello again from the northern Rocky Mountains! A plume of deep/rich tropical moisture is placed over the state this Thursday (Green arrow and white/purple coloration in Figure 2 update). Precipitatable water is pretty high. Rain and (non-severe except further out on the eastern plains) thunderstorms should be pretty widespread. For the rest of the week, moisture levels will drop a bit, but daily afternoon storms will be occurring in the mountains midday and the lower elevations mid-afternoon calming down by sunset.
Independence Day Forecast: there will be chances of storms mid-afternoon but drying out by about 7-8pm. For Longmont and Broomfield, the weather at 9pm (just before fireworks) will be 77F, a 5% chance of thunderstorms, partly cloud skies, with winds from the north about 5mph. Pretty awesome! If this chances, I'll hop back on and update! Enjoy the celebration!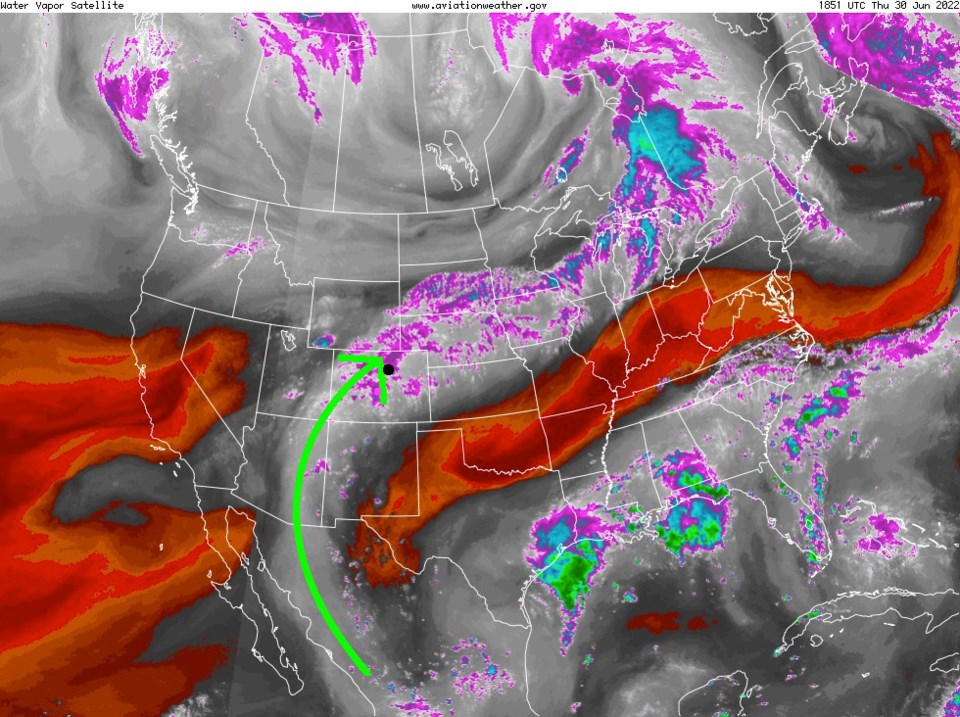 End Thursday update.
Saturday Update:
A remarkable cold front has slipped down over the state. Temperatures feel chilly after the recent periods of summer heat. We should see chilly rain with upslope flow behind the front this weekend (Figure 1 update). A warm up begins on Monday with Tuesday being the driest day of the week. After that we get very typical summer temperatures and afternoon thunderstorm chances (you can see the afternoon pulses of elevated rain chances).
I'm getting away this week to camp. I don't expect any big surprises in the weather and will keep updates coming as needed. Always be careful when you hear thunder! (Note, Independence Day looks pretty warm but not too stormy at this time.)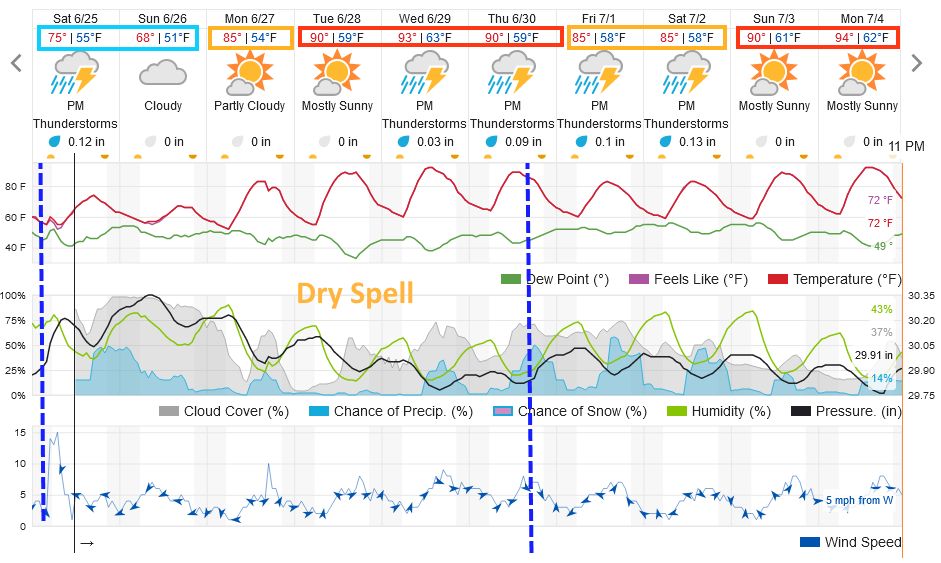 End Saturday update.
Forecast Discussion:
There is one last chance of thunderstorms (until about Thursday or Friday) on Sunday (Figure 1). Further, there is a Marginal Risk (1 on a scale of 1-5) that a few of these storms Sunday may produce damaging straight line winds (damaging hail and tornadoes are not in the forecast) for areas north and west of Denver (Figure 2). This is due to ample daytime heating and an above average amount of atmospheric moisture in place over the state (Figure 3 and green coloration in Figure 4).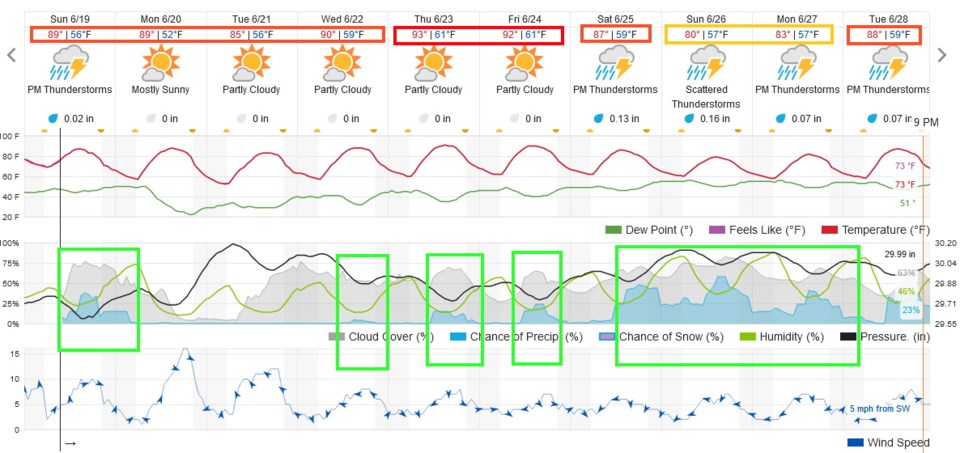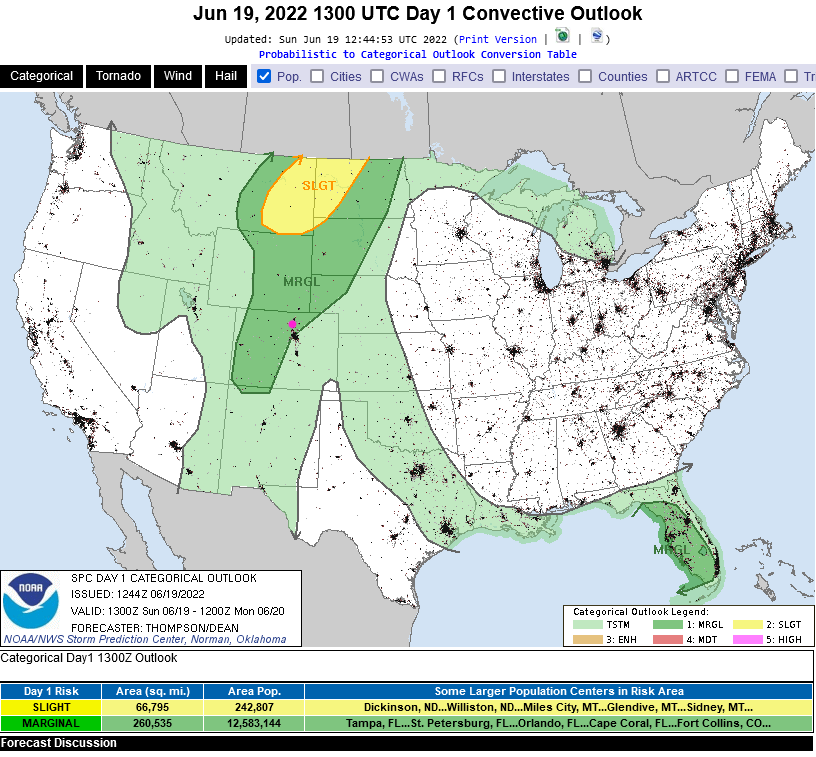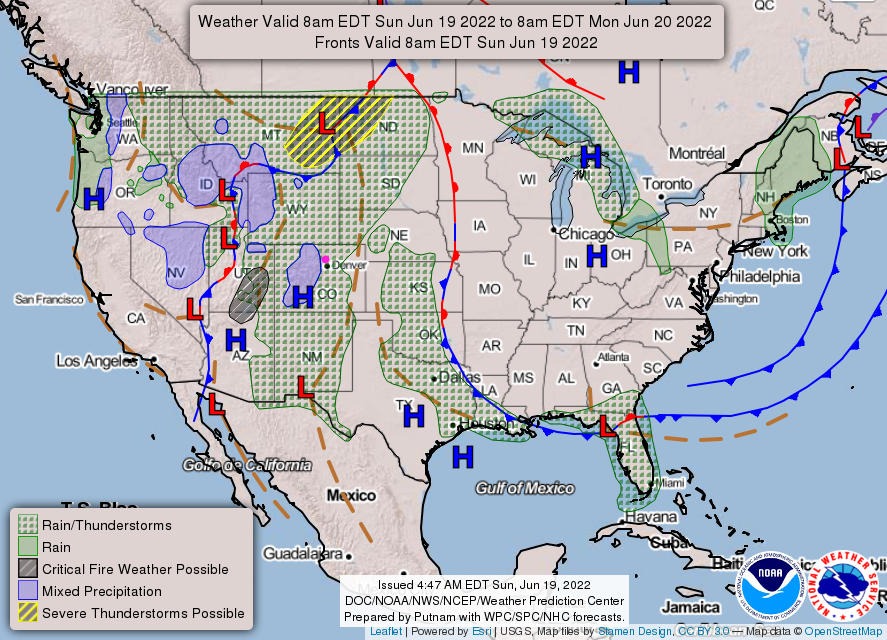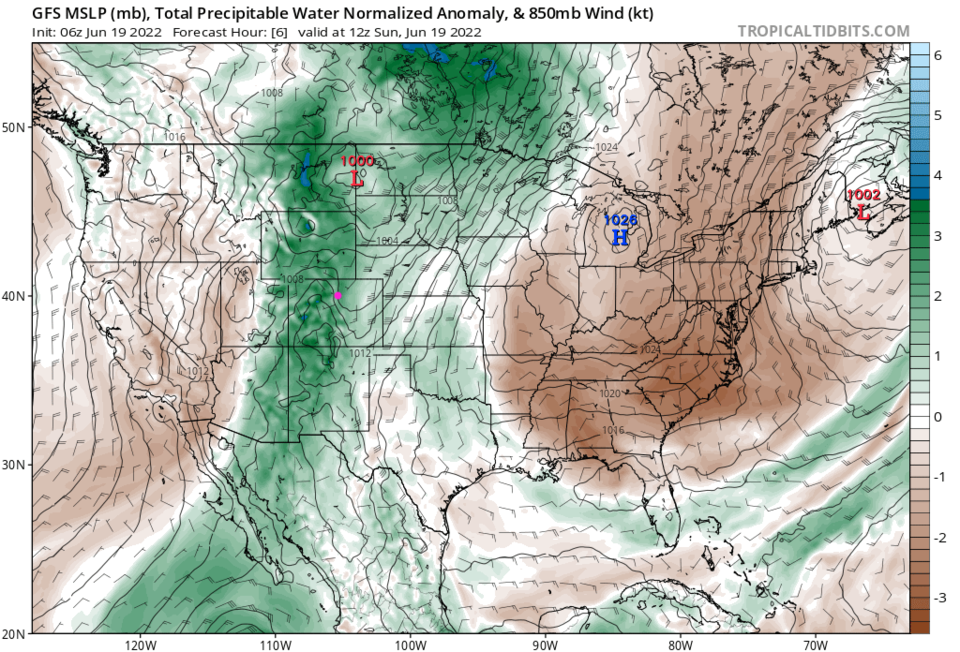 The Longer Range Forecast:
Figure 1 shows that storm chances drop to zero at the start of the week (but thankfully temperatures don't go crazy like they have recently). The moisture gets swept to the south and east of the state (Figure 5). Still, over the next five days (Figure 6), not a lot of water is expected to hit any particular spot. Storm motion will be quite quick to the northeast on Sunday - flooding is only a risk over recent burn scars in the mountains.
Later in the week, moisture is expected to REALLY make a come back with better and better storm chances each afternoon until the weekend which should be very stormy. Prepare for rain next weekend!