In Brief:
Chilly for a while, dry until about Dec 22nd.
Wednesday Update:
Quick update tonight. Figure 6 update shows just a few locations that received a trace of snow in Boulder Co. This storm hit the northeast Plains hard, but the mountains and I-25 folks got nothing (or nearly nothing). We remain chilly (below normal) through the 22nd when our next possible shot of snow arrives. There is a LOT of uncertainty on this so I'll create a new post in the next day or two to cover that. Enjoy the chilly dry weather!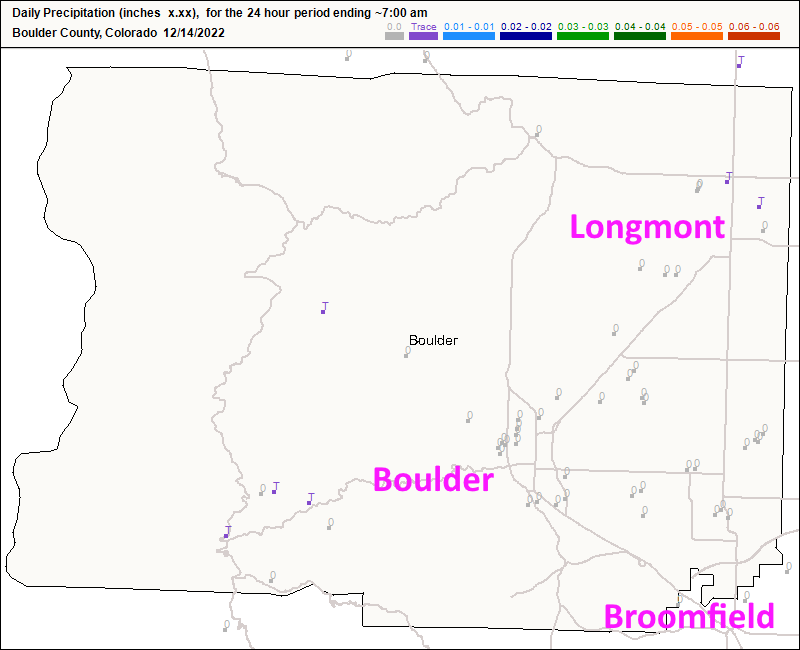 End Wednesday update.
Sunday Update:
The main story along I-25 (and the nation) is that polar air will flow in and stay in place for the next 10-15 days. High temperatures will remain below or barely above freezing until we approach Christmas. Wow, cold!
For the snow along I-25 (Longmont to Broomfield), downslope flow will eat a lot of it. Some models give locations along I-25 no snow at all. Here is the
Snowfall Roundup:
For Longmont to Broomfield, I'm calling for a Trace to 3 inches.
Matt Makins at Weather5280 is giving Longmont 1-3 inches and Broomfield 2-4 inches.(Figure 1 update)
The GFS model gives these locations 0.1-1 (maybe 2 inches) (Figure 2 update)
The NAM model gives these locations 0 inch of snow (Figure 3 update)
Channel 7 news has 1-3 inches. (Figure 4 update)
The NWS official forecast is for Longmont 1-2 inches and Broomfield 2-3 inches.
It is an impressive snow storm for the northern mountains and very dangerous snow totals and blizzard conditions will slam the NE corner of Colorado, but I-25 largely misses this one (unless the storm track jumps southward - which it is not yet doing, much, in the models.)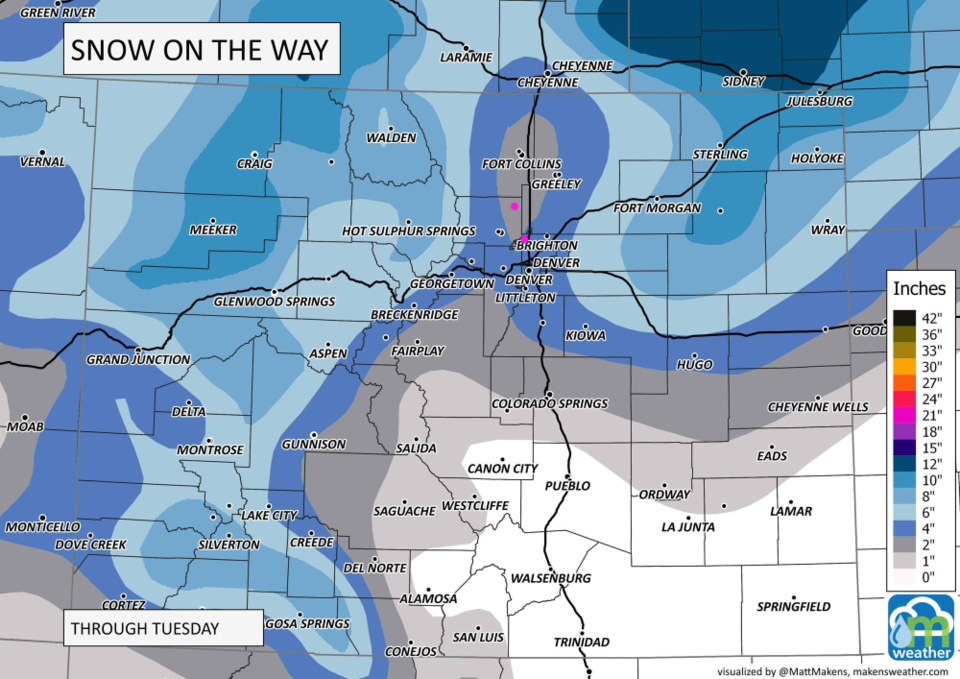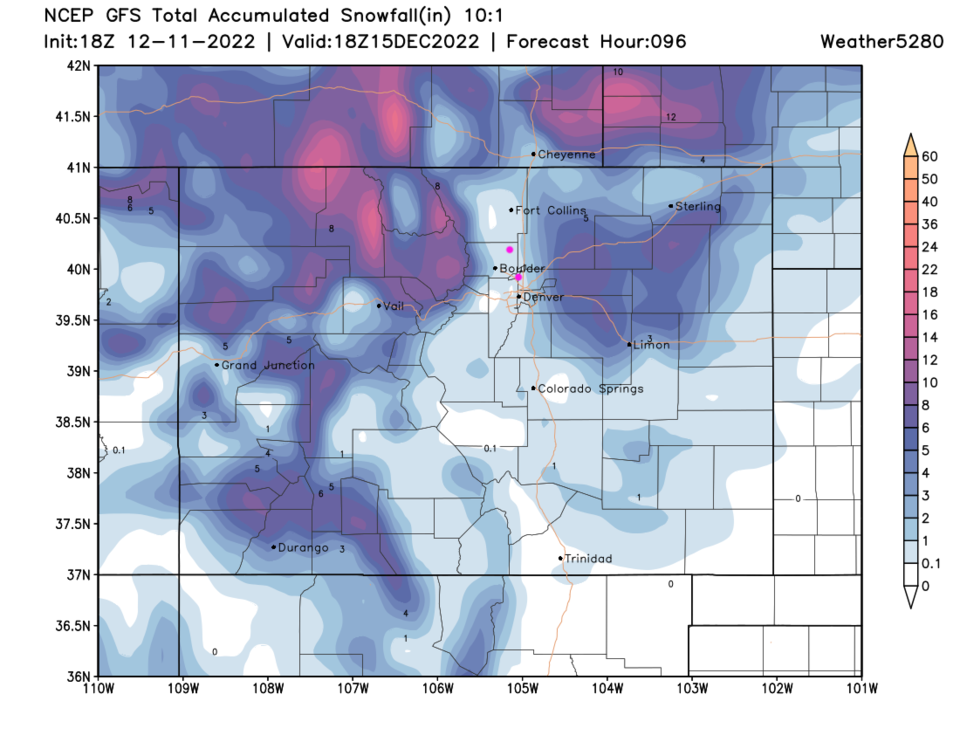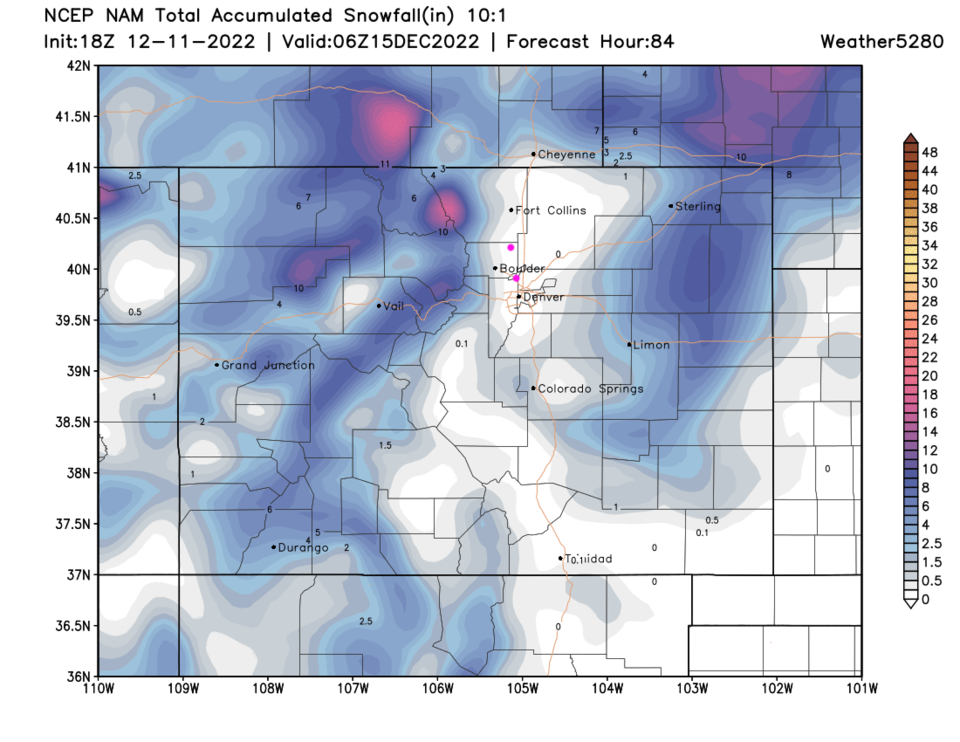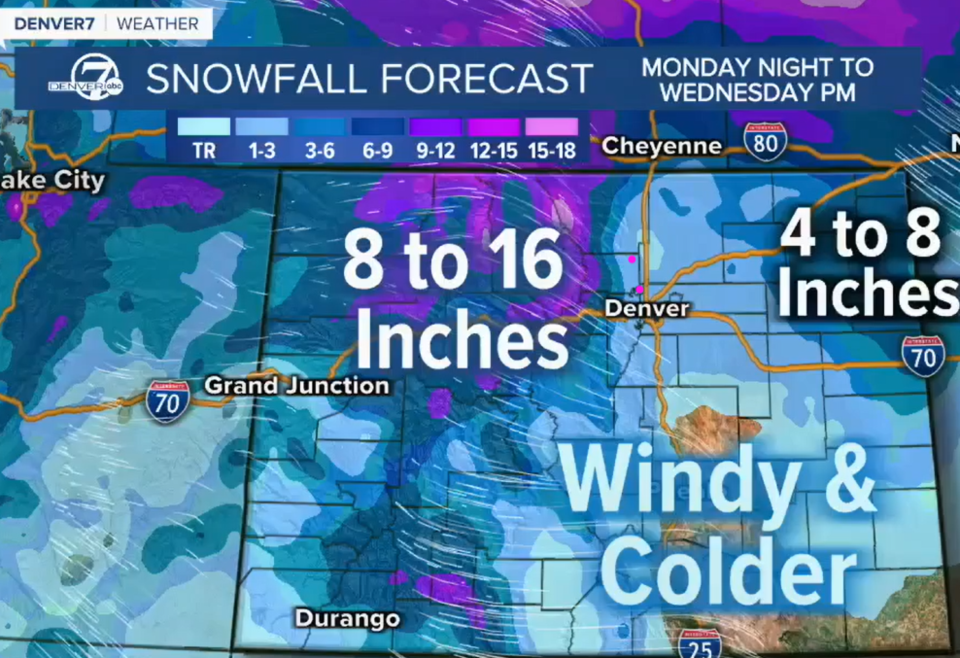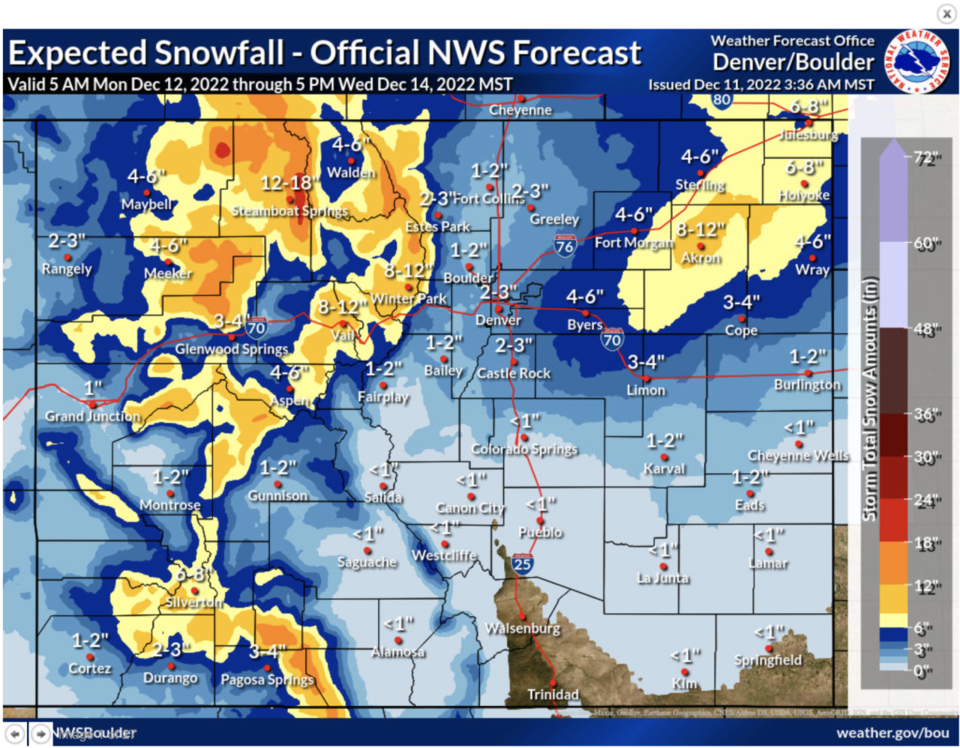 End Sunday update.
Forecast Discussion:
We make it through the weekend with normal to above normal temperatures with clouds now and then (Figure 1). Enjoy!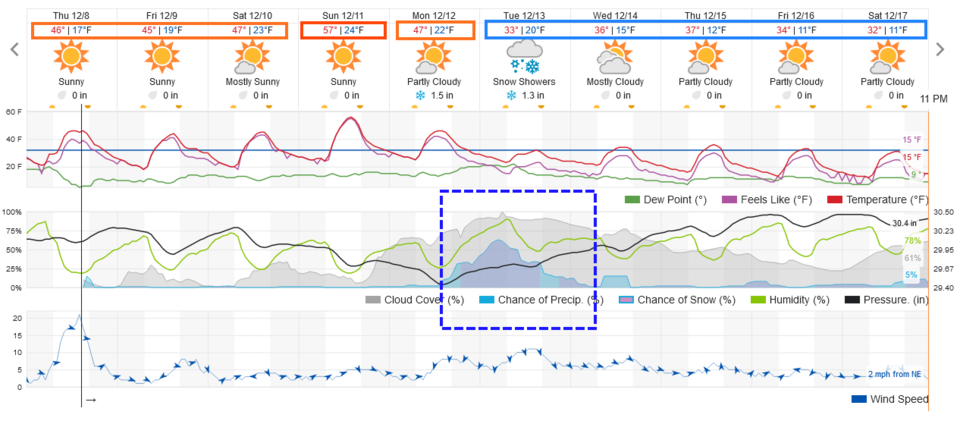 The Longer Range Forecast:
A strong cold front hits about noon on Monday with precipitation staring almost immediately (Figure 1). This is driven by a huge cut off low that will move slowly through the western state (Big L surrounded by circles in Figure 2). It looks like snow will fall for about a day and a half (Figure 1). The northern half of the state will see very cold air and snow pour in from the north (Figure 3).
Looking out through Thursday, weatherundreground gives us 3-4 inches (Figure 1).
The GFS gives Longmont about 3-4 inches while Broomfield gets more like 5-6 inches! (Figure 4). Adding in four more days adds about 1/2 inch of snow in the days following (Figure 5). Note how the temperatures remain near freezing for highs and drop to nearly 10F each night through the rest of the 10 day period. Buckle up for some real winter cold.