A Lafayette-based artist has organized and curated six exhibitions that feature the works of Black artists in Boulder County.
Adderly Grant-Lord worked with the artists to showcase their talent in "Black Futures in Art: We're Not Just History" — a series of six exhibitions that opened in Boulder and Lafayette.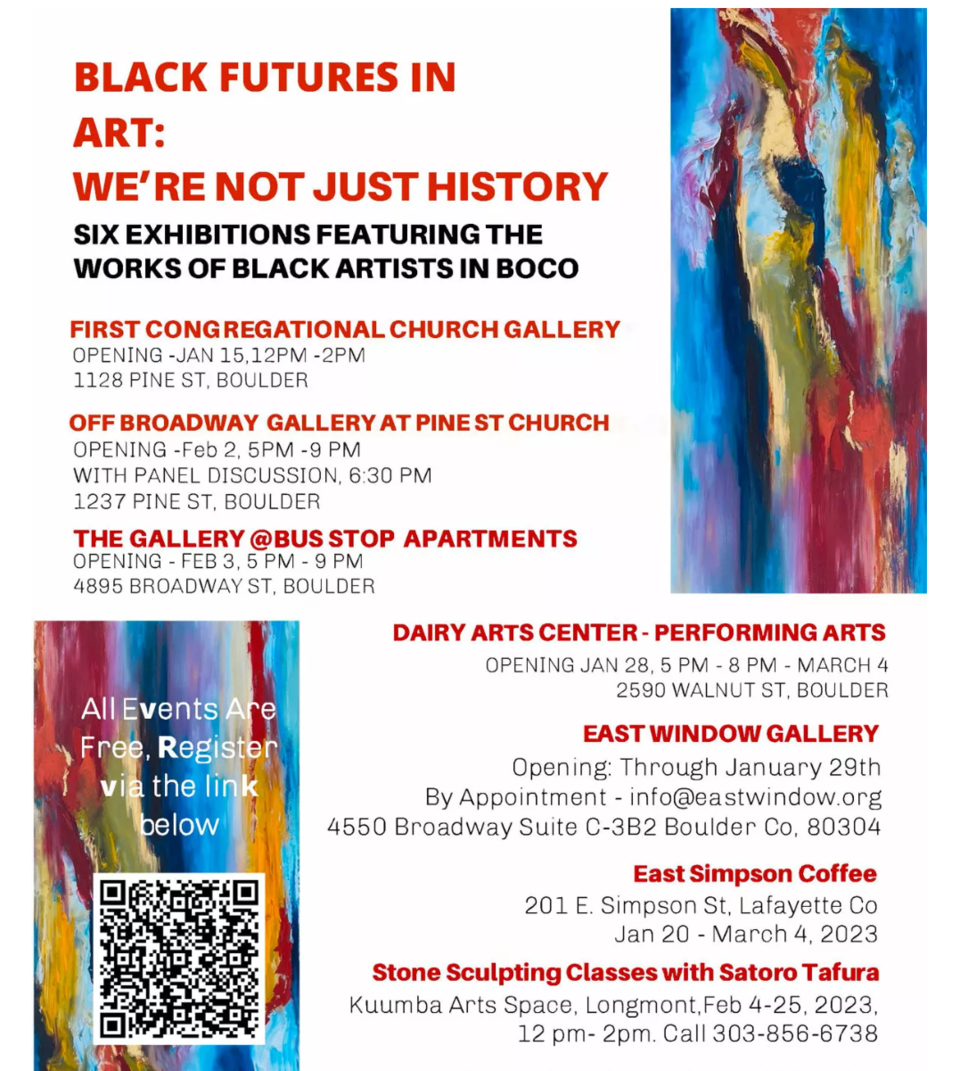 Grant-Lord is known in the Boulder County community for using art to bring the community together — she has organized several events, including a free drive-thru, walk-up art exhibit in 2020 in Lafayette.
"I needed something to fill up that gap — that hole that we all found ourselves in," she said. "And I was like 'I could give something to the community.'"
The event drew people from across Colorado, and she now holds drive-thru, walk-up exhibits twice a year to showcase local art.
Grant-Lord's love of art began in high school, when she found refuge in the school's art studio.
"I have a pronunciation problem, with the 'th' because I sucked my thumb as a child … so I got picked on in high school," she explained. "I was supposed to go to speech therapy, and I decided no — I am going to be fully me, how I am. My art teacher said, 'you can have access to the art studio, because you seem to find peace here.' So that's how I started."
That peace — along with creativity, vibrancy, color and vitality — is what Grant-Lord's paintings are known for.
Grant-Lord earned degrees in Illustration and Fashion Design from both the Art Institute of Pittsburgh and the Fashion Institute of Technology in New York. She and her family lived in Washington, D.C., Indianapolis and New Hampshire, before moving to Colorado in 2009.
She took a break from painting after having a baby girl, so she could focus on her child, but began painting again when her daughter reached her teenage years.
Grant-Lord now uses her art to connect with the community — and other artists, some of whom were instrumental in driving her to open her own art business. Sally Mina, a Longmont-based artist, even turned down a sale in an effort to further Grant-Lord's career.
"I was buying her painting and she told me she wouldn't sell me her painting because she's seen my work and I needed to do it," Grant-Lord said. "She was like, 'you have to paint,' and I was like, 'but I'm petrified.'"
But Grant-Lord gradually overcame her fear, and started posting images of her art on Facebook.
Janet Russell, owner of the Creative Framing Gallery in Louisville, was another early supporter of Grant-Lord's business.
"She was my jump off — you know when somebody pushes you off the edge and you find that you've got glory? She was the first one to exhibit my work at a gallery," Grant-Lord said.
Grant-Lord's business then took off, and her art has appeared in numerous shows and galleries. She also meets many of her clients in person.
The "Black Futures in Art: We're Not Just History" series, a celebration of Black History Month, underlines the importance of giving Black people in Boulder County a voice, Grant-Lord said. The artist has watched her own daughter struggle with isolation.
"She does not see anybody like herself," Grant-Lord explained. "She feels alone."
The exhibitions give local Black artists a voice, and allow Black community members "to be seen," Grant-Lord said.