This content was originally published by the Longmont Observer and is licensed under a Creative Commons license.
The Longmont Police Department have magnetized body cameras to their person in an effort to successfully streamline the process of law enforcement from incidents, to paperwork, and also in the courtroom.
Every LPD patrol officer, animal control personnel, SWAT, and detective can magnetize a body camera to their uniform while on duty. A handful of officers started wearing them as early as February this year while all officers were wholly equipped by April. Longmont contracted with Axon to purchase 162 body cameras, that are assigned by badge number, as well as 17 spare cameras in case of malfunction.
According to Deputy Chief Jeff Satur, the price tag for this application runs Longmont $280,000 to jumpstart its first year, along with additional yearly costs of $150,000. Two full-time employees will also be hired to help manage the video database of body camera footage.
"Prior to this camera system, we had to download all the pictures to a CD. We had to fill out a property form, book it in property evidence. If the DA needed a copy of it, they'd have to make a copy of the CD and send it to him," said Satur. "Now everything is digital. We don't have to do any property sheets because there's already an established court defensible record. So, it just goes into the cloud and if we need to share it, we just share a link with the DA and it's that simple. We've cut out a bunch of steps which makes it easier."
The body cameras connect with the officer's cellphone via Bluetooth. Once connected, the camera is assigned to the officer which automatically sends footage into their record, and Axon has a few apps that help officers manage those videos. For the LPD, this system will become a substantial time saver when it comes to paperwork, documenting evidence through photos and video, which frees up more time for officers to be out on patrol.
Prior to body camera initiation, Longmont residents were requesting the LPD to purchase body cameras, and after looking at the cost benefit, the department started budget requests for body cameras back in 2018. As of now, the cameras haven't been in use long enough to use footage in court cases, with cases about two to three months out from incidents, they hope to see the benefits of that very soon.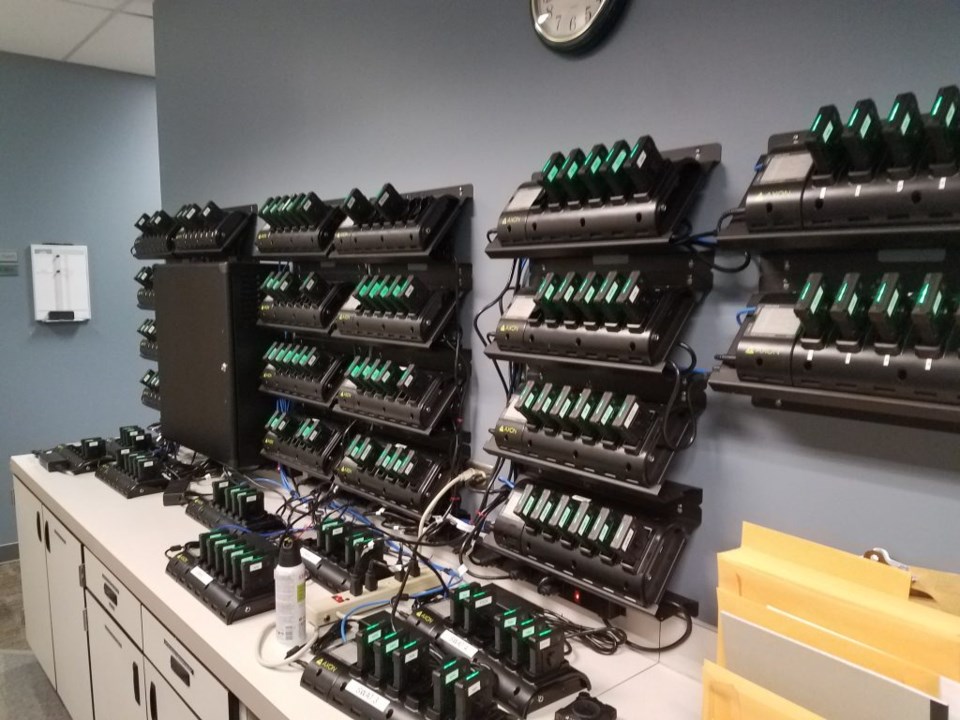 "For a domestic, when we get there, and we're recording the drama of the domestic violence that's associated with whatever is going to be visible. That's helpful when it goes to court. Now we have that evidence. If you're the suspect in a case like that, that's something you have to overcome in trial. It's going to make our cases stronger because it shows the emotion and things that are hard to capture in a written document," said Satur. "And there are studies that axon and other places have done that say people tend to be a little more cooperative when they know they're being recorded."
The body cameras are on all day from the start of an officer's shift, as soon as they link the camera to their cellphone, and the only time they get turned off is when they come into the station or use the restroom. All that footage isn't being saved because its perpetually making a 30 second loop over itself. It gets put to good use when events are rapidly evolving during a law enforcement incident and the officer decides to press record, then the previous 30 seconds are on that video.
For some, other than remembering to turn the camera off and on, the biggest challenge officers have found to be an issue is where to mount the camera: head, chest, shoulder, stomach, or waist. When and if a camera breaks or malfunctions, officers can come back to the station and connect with one of the spare cameras.
"We're getting used to it, more and more, as each day goes by. I find I try not to cuss as much," said Animal Control officer, Diane Milford. "You have a tendency to forget it's there. It beeps at you, and officers sometimes will mute that because it's kind of distracting, but for me, it's a reminder it's there."
Depending on the case, civilians can make a records request for body camera footage in relation to an investigation. The same goes with a police report in open records, it costs about $30 an hour to process the request because LPD has to pay someone to redact any sensitive information.